Falklands relations: Argentine congress summons Faurie to explain
Monday, October 29th 2018 - 08:09 UTC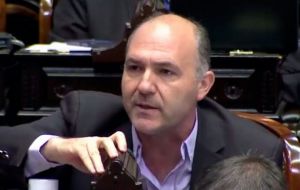 Argentina's foreign minister Jorge Faurie has been summoned this Monday to the Foreign Affairs commission of the Lower House to explain relations between Argentina and the United Kingdom as well as his latest statements regarding the Falkland Islands and its people, in interviews with the London media.
The session called by the opposition, is scheduled to begin at 16:00 hours, Buenos Aires time, and will center on the joint communiqué of September 2016, when a new constructive and cooperation spirit in different areas between Argentina and UK was inked.
However the heart of the matter are statements made by Faurie in London relative to relations between Argentines and the Falkland Islanders. In an interview with Clarin the minister is alleged of having said that it was necessary "to generate links as two peoples, (Argentina and Falklands) as a nation that we are in the South Atlantic"
But according to opposition lawmaker Guillermo Carmona "what the minister said is against the first transitory disposition of the (Argentine) Constitution and against the official policy of claiming sovereignty over the Islands"
"His (Faurie) words leave us in a delicate position and we expect an official retraction", insisted Carmona who is deputy chairman of the Foreign Affairs Commission of the Lower House.
The first time the 2016 communiqué was questioned in congress was in late 2016, when Susana Malcorra was still foreign minister.
According to congressional sources, this time lawmakers want more details about cooperation plans and programs in science, connectivity and future flights, fishing accords and the military exercises.
Furthermore opposition lawmakers are also interested in knowing about Argentina's decision to abandon UNASUR, and relations with Brazil, United States, China and Russia.