Trump talks to Bolsonaro: looking forward to working side-by-side "as regional leaders of the Americas"
Monday, October 29th 2018 - 08:26 UTC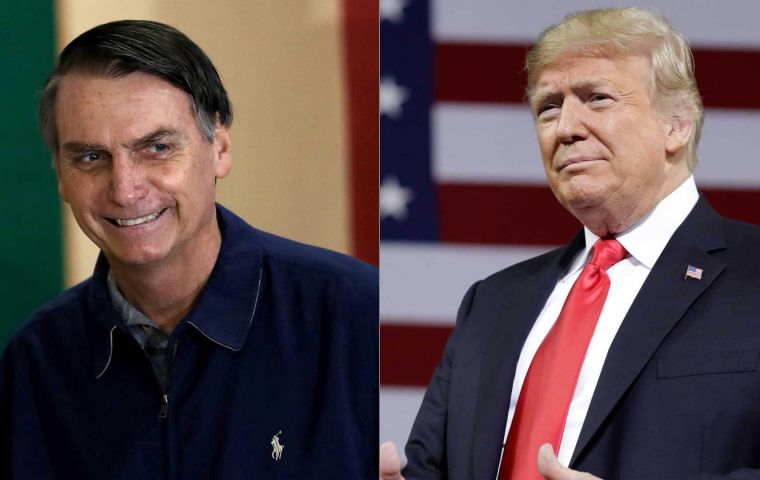 United States president Donald Trump called Brazil's President-elect Jair Bolsonaro on Sunday to congratulate him on his election victory and both men expressed a strong commitment to work together, the White House said.
Trump and Bolsonaro told one another that they are looking forward to working "side-by-side" as "regional leaders of the Americas," White House Press Secretary Sarah Sanders said in a statement.
Bolsonaro, the controversial right-wing populist who has been nicknamed "Trump of the Tropics," won 55.1% of the vote with 99% voting by Sunday evening.
The longtime Brazilian congressman has been fiercely criticized for his incendiary rhetoric that opponents and activists have called racist, sexist and anti-LGBTQ. He has faced multiple fines and charges for statements targeting black, gay and indigenous Brazilians.
A movement of mainly women called "Ele Não," or "not him" rose up to oppose Bolsonaro in Brazil over the past year, drawing parallels to the U.S.'s "Me Too" movement which has vehemently opposed Trump.
Congratulations to Bolsonaro also arrived from Italy, where Matteo Salvini, deputy Prime Minister and Minister of the Interior.
"In Brazil also citizens have kicked out the left wing. Good job president Bolsonaro, the friendship between our peoples and our governments now is stronger than ever", twitted Salvini together with a picture of him and one of Salvini.