Bolsonaro pledges to help the Venezuelan people end the dictatorship but through peaceful means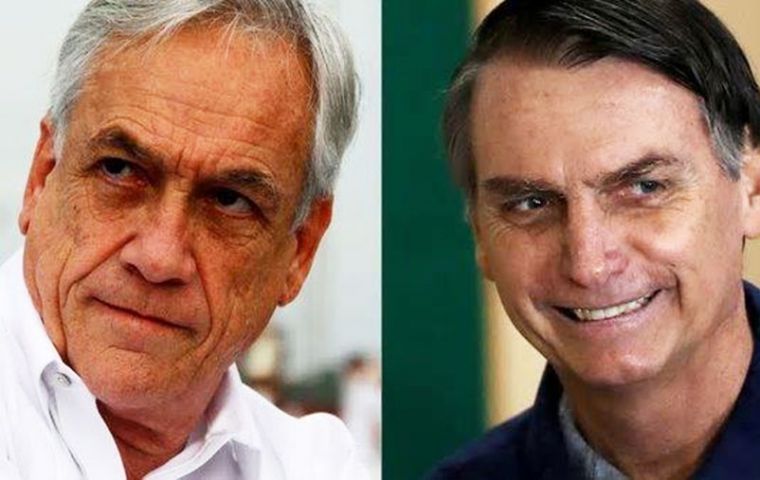 The president elect of Brazil Jair Bolsonaro in his first television interview as president elect said it was necessary to solve the problem of the Venezuela dictatorship of Nicolas Maduro, but underlined "there will be no intervention in Caracas, it will be through peaceful means".
Bolsonaro did not waste the opportunity to question "the support and admiration of former president Lula da Sivla and his Workers Party of Hugo Chavez and Nicolas Maduro".
The president elect made the public statement on Venezuela since the regime of Maduro and acolytes are claiming that Bolsonaro together with Colombia, and other "liberal" governments from the region, and obviously Donald Trump, were planning the military removal of Maduro and Chavism.
On other matters, Bolsonaro will be making its first overseas trip to Chile, followed by a visit to Donald Trump at the White House, and then a call in Israel, according to Onyx Lorenzoni, who is the future head of cabinet.
However it is not clear when the trip/trips will be taking place since the president elect will have to undergo further abdominal surgery, which is scheduled for December, and demands complete rest for the patient during at least fifteen days. This means that if all goes as planned Bolsonaro should be in healthy conditions by next Christmas, just a week before taking office.
Nevertheless Lorenzoni when asked why Santiago, he replied that "Chile has become the great Latin-American reference, good education, good technology and it trades with all the world; we must be sufficiently humble to closely look at this example".
He went on and said that the idea on Chile is shared, with different degrees by all members of the presidential team, and helps to explain why Mercosur has ceased to be a priority, the example is Chile which successfully trades with all the world.
In effect among the first foreign leaders to congratulate Bolsonaro on his victory was president Sebastian Piñera, with whom he had a long chat and accepted the invitation to visit Chile

And why Israel? Lorenzoni then quoted his chief, "they have nothing but are top ranked. We have all but are nobody". Bolsonaro has repeatedly mentioned Israel with admiration during his electoral campaign.