UK Budget time: "Austerity coming to an end" announces Chancellor Hammond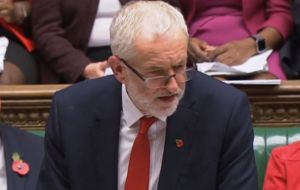 Chancellor of the Exchequer Philip Hammond has said the "era of austerity is finally coming to an end", in his last Budget before Brexit. He spent a windfall from better public finances on more money for universal credit and bringing forward planned income tax cuts by a year.
The personal allowance will rise to £12,500 and the higher rate threshold to £50,000 in April 2019, worth £130 a year for a typical base rate taxpayer.
Jeremy Corbyn said whatever Mr Hammond had claimed, "austerity is not over".
In a speech lasting more than 70 minutes, Mr Hammond said "we have reached a defining moment on this long, hard journey" after repairing the damage to the public finances.
He described it as a Budget for "the strivers, the grafters and the careress," promising them a "brighter future" after years of constraint.
He announced a slight increase in growth forecasts, from 1.3% to 1.6% for 2019, and better-than-expected borrowing figures.
A freeze on beer, cider and spirits duty, saving 2p on a pint of beer, 1p on a pint of cider, and 30p on a bottle of Scotch or gin
A packet of 20 cigarettes goes up by 33p
Wine duty will not be frozen and a bottle will go up by 8p from 1 February next year
Another freeze in fuel duty
An end to the use of Private Finance Initiative schemes for future infrastructure projects
A £30bn package for England's roads, including repairs to motorways and potholes
£900m in business rates for small businesses and £650m to rejuvenate high streets
Stamp Duty abolished for all first-time buyers of shared ownership properties valued up to £500,000, applied retrospectively to the date of the last Budget
An extra £500m for no-deal Brexit preparations
A tax on plastic packaging which does not contain enough recycled materials - but no disposable plastic cup tax
An extra £1bn for the Ministry of Defense to boost cyber capabilities and anti-submarine warfare capacity
A further £650m of grant funding for English local authorities struggling to cope with rising care bills, for 2019/20
New mandatory business rates relief for all public lavatories made available for public use, whether publicly or privately owned
Mr Hammond also announced a planned new tax - subject to consultation - on the profits generated in the UK by global online "giants", such as Facebook, which he said would come into effect in April 2020 and raise £400m a year.
The chancellor announced an extra £2bn for mental health services in England, as part of the £20bn boost to the NHS announced by the government in June. He also unveiled an additional £400m to allow schools to "buy the little extras they need".
Labour leader Jeremy Corbyn said: "What we've heard today are half measures and quick fixes while austerity grinds on.
"And far from people's hard work and sacrifices having paid off, as the chancellor claims, this government has frittered it away in ideological tax cuts to the richest in our society."
Labour said the extra money for mental health would "do little to relieve the severe pressures" on services caused by the government's "relentless underfunding of the NHS," and the extra £20bn for the health service in England was not enough.
Labour MPs also reacted angrily to Mr Hammond's promise of a "little extra" for schools.
Mr Hammond warned at the weekend that an emergency Budget would be needed if Britain leaves the EU in March without a deal. However, Downing Street has said all spending plans in this Budget will go ahead "irrespective" of Brexit.
The big long-term spending decisions will be made next year, after Britain's scheduled departure from the EU. But Mr Hammond said overall spending would go up by 1.2% over the next five years.
But Treasury officials said this was not a guide to next year's spending review because more money could be available if the UK gets a deal with the EU.
And, they added, there was £4.2bn in reserve for a no-deal scenario so it was likely spending would go up whatever happened, although the 1.2% figure included the extra money for the NHS.
Mr Hammond has said his Budget was based on the assumption of an "average-type free trade deal" being agreed between the UK and the EU.
He said he was holding back some "fiscal" headroom in case he needed to alter his economic plan if Britain leaves the EU without a deal - but that a Brexit agreement with Brussels would result in a "deal dividend" for the economy.
Reactions
Paul Johnson, of the Institute for Fiscal Studies, told the BBC: "Arguably he's just about got to the absolute minimal definition of ending austerity but it's certainly nothing like a bonanza for the rest of the public services". He added that "most of the planned welfare cuts are still on the books".
The Office for Budget Responsibility said the chancellor had decided to spend a "windfall" from better employment and tax receipts on a "near-term tax and spending giveaway", in addition to the extra £20bn promised for the NHS by Theresa May.
"This leaves the medium-term outlook for government borrowing little changed since March", with the government still committed to balancing the nation's books by 2025.
CBI director general Carolyn Fairbairn said: "This was a rock-solid budget, bringing more treats than tricks for business."
TUC general secretary Frances O'Grady said: "Working people cannot be fobbed off again with promises of a better tomorrow that never comes."
The SNP's Westminster leader Ian Blackford said austerity would remain under the Conservatives, and claimed the Budget leaves Britain "wholly unprepared" for Brexit.
He said Scotland's budget "will have been slashed by £1.9bn since the Tories came to power".
Lib Dem leader and former business secretary Sir Vince Cable said: "With growth remaining stubbornly low and Brexit weighing down our economy, it is clear the big problems are still to be tackled. "It was a sticking plaster Budget, when major surgery lies ahead."
Plaid Cymru said it was a "fantasy pre-Brexit Budget based on imaginary numbers", saying Wales remained "an afterthought for Westminster"