YPF plans US$ 4bn annual investment in oil and gas production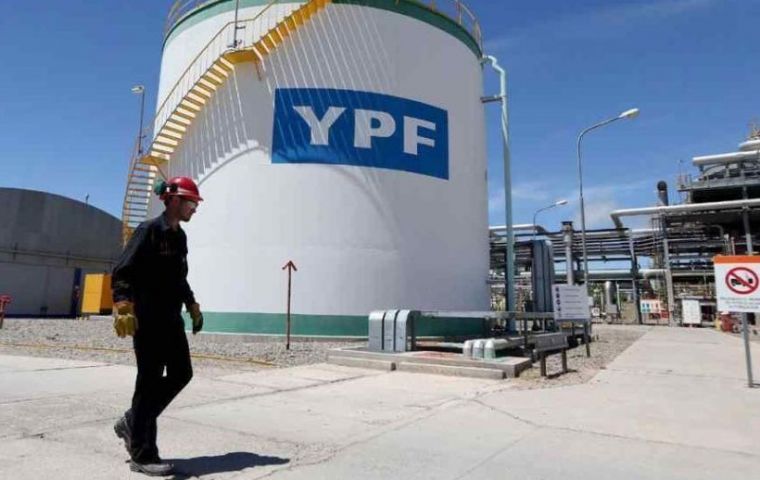 Argentina's state-controlled oil company, YPF, will significantly boost oil and gas production, investing between US$4 and US$ 5 billion per year through 2022, Chief Executive Daniel Gonzalez said. The plan is to raise production by between 5and 7% per year, with the largest increase in the Vaca Muerta formation, one of the world's largest reserves of shale oil and gas.
The company intends to invest US$ 3.6 billion on infrastructure in Vaca Muerta over the next five years, Gonzalez said, adding that the company is looking to speed up shale oil and gas extraction, with 1,700 wells drilled by 2023.
"Crude oil is going to grow, I would say twice as fast as natural gas for us in the next five years," Gonzalez said.
"Having said that, crude oil production will be seven times what it is today and shale gas will be four times what it is today in five years. So there will be a significant growth in unconventional (shale) production," he said.
The company also plans to begin exporting gas to Chile, and investing in offshore exploration in the Argentina's Gulf of San Jorge, on the southern Atlantic coast.
Gonzalez said the plans would allow YPF to double its dividends every year over the next three years.
"We are going to do that in a very disciplined way, reducing our debt significantly, increasing our dividends and more importantly generating cash that we can invest in new ventures. All of this growth can be financed organically by the company, by markets and our cash generation," Gonzalez said.
YPF said it will also double its electricity generation capacity, and that 20% of that electricity would come from renewable sources by 2023.
While YPF is the leading investor in Vaca Muerta, the Argentine government has tried to spur investment in the region with a labor agreement to incentivize competition among oil and gas drillers, construction companies and mid-stream service providers.