People in UK dump some 295 billion pieces of plastic every year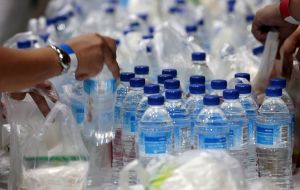 People in the UK throw away around 295 billion pieces of plastic every year, much of which is single-use and cannot be recycled, a report suggests. Campaigner Daniel Webb has revealed the extent of the plastic waste an individual gets through in the UK, and how little of it is recycled in this country.
For a year Mr Webb, who lives in Margate, Kent, stored all the plastic waste he threw in the bin, collecting up a total of 4,490 individual pieces of plastic. Some 93% of the plastic he used in a year was single-use packaging, and two thirds was used to package, wrap and consume food, the Everyday Plastic report by Mr Webb and researcher Dr Julie Schneider shows. Some 70% was not currently recyclable, the report estimates.
Based on UK national collection rates of recyclable material, only 10% of the plastic he got through in a year would be recycled, with just 4% recycled at UK recycling facilities and the rest exported. The remaining plastic waste would be sent to landfill or burned.
With Mr Webb's plastic consumption close to average levels, the report says nationwide, the UK is likely to be throwing away 295 billion pieces of plastic every year. Mr Webb raised concerns that plastic recycling in the UK was a "poorly funded system" which needs significant investment and improvement.
He said: "We can't just rely on recycling to fix plastic pollution." And added, "Most importantly, we need to produce and use much less plastic."
"Our fast-moving disposable society means that we are using more single-use things than ever, so we need to rethink how we consume."
Dr Schneider added: "Plastic bottles can be properly recycled, but what about the plastic film that wraps our vegetables, pasta and sweets? All the plastic packaging stamped with the 'not currently recycled' logo?"
"It turns out that 70% of Daniel's plastic waste is not currently recyclable. This is an issue that needs to be addressed urgently."
Hugo Tagholm, chief executive at environmental charity Surfers Against Sewage, said "The Everyday Plastic report not only exposes the sheer diversity and volume of single-use plastic we all have to navigate daily, but as alarmingly, the inadequacy of current recycling systems, which only return a paltry amount of material back to shop shelves."
"Reducing the use of pointless plastics is a priority – there is just too much plastic currently being made."