Bolsonaro vows to move embassy in Israel to Jerusalem
Thursday, November 1st 2018 - 23:36 UTC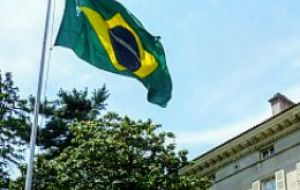 Brazil's far-right president-elect Jair Bolsonaro promised to move his country's embassy in Israel to Jerusalem, the newspaper 'Israel Hayom' reported Thursday.
"When I was asked during the campaign if I'd do it when I became president, I said 'yes, the one who decides on the capital of Israel is you, not other nations'," Bolsonaro was quoted as saying.
The United States and Guatemala have already decided similar Jerusalem moves. Brazil's would become the third embassy in a city under full Israeli control since 1967, contrary to the Palestinian view, which regards East Jerusalem as an occupied territory and the capital of their future state.
Paraguay had announced it too would relocate its embassy to Jerusalem but a quick change of mind kept it in Tel Aviv.
After his victory last Sunday in the presidential runoff, Bolsonaro was congratulated by Israeli Prime Minister Benjamin Netanyahu, who told him he was certain his election "will lead to a great friendship between our peoples and the tightening of links between Brazil and Israel."
Sources close to Netanyahu said the PM is considering attending Bolsonaro's inauguration on January 1.