Trump makes immigration and birthrights leading issue of midterm election next week
Thursday, November 1st 2018 - 08:46 UTC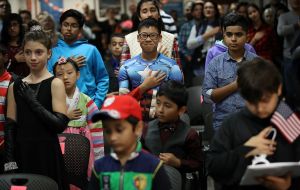 President Donald Trump is intensifying his hard line immigration rhetoric heading into the midterm elections, 6 November, declaring that he wants to order an end to the constitutional right to citizenship for babies of non-citizens and unauthorized immigrants born on US soil.
"How ridiculous, we're the only country in the world where a person comes in, has a baby, and the baby is essentially a citizen of the United States for 85 years with all of those benefits," the president told "Axios on HBO." "It's ridiculous. It's ridiculous. And it has to end."
Asked about the legality of such an executive order, Trump said, "they're saying I can do it just with an executive order." But an executive order to revoke the right would spark a court fight over whether the president has the unilateral ability to change an amendment to the Constitution.
Section 1 of the Constitution, which contains the Citizenship clause, of the 14th Amendment guarantees the principle known as Jus Soli:"All persons born or naturalized in the United States and subject to the jurisdiction thereof, are citizens of the United States and of the State wherein they reside."
The 14th Amendment was passed by Congress in 1866 during the period of Reconstruction after the Civil War. It was ratified in 1868 by three-fourths of the states. By extending citizenship to those born in the U.S., the amendment nullified an 1857 Supreme Court decision (Dred Scott v. Sandford), which ruled that those descended from slaves could not be citizens.
Trump said White House lawyers are reviewing his proposal. However it's unclear how quickly he would act and the White House did not provide further details.
Legal experts questioned whether Trump has the authority to do this by executive order. Omar Jadwat, director of the Immigrants' Rights Project at the American Civil Liberties Union in New York, said the Constitution is very clear.
"If you are born in the United States, you're a citizen," he said, adding that it was "outrageous that the president can think he can override constitutional guarantees by issuing an executive order."
Jadwat said the president has an obligation to uphold the Constitution. Trump can try to get Congress to pass a constitutional amendment, "but I don't think they are anywhere close to getting that."
Mr. Trump's comments come ahead of next week's mid-term election, in which immigration is a key issue for his GOP base. On Monday, the administration announced it was deploying over 5,200 troops to the southern border to block a caravan of Central American migrants making their way to the US-Mexico border and expected arrive to the US next month.
Trump voiced his theory that birthright citizenship could be stripped during his campaign, when he described it as a "magnet for illegal immigration." During a 2015 campaign stop in Florida, he said: "The birthright citizenship - the anchor baby - birthright citizenship, it's over, not going to happen."