Argentina, Japan and EU supporting US drive for greater transparency at WTO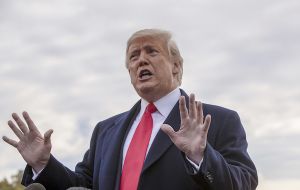 Argentina, Costa Rica, Japan and the European Union are supporting a U.S. drive to enforce greater transparency and discipline at the World Trade Organization, an updated proposal published by the WTO showed on Friday.
The growing support for the U.S. initiative will add to pressure on China and India to accept reforms at the 23-year-old WTO, which President Donald Trump says gives the United States a raw deal. Trump has threatened to quit the world body if it does not shape up, and his ambassador in Geneva has vowed to be disruptive if necessary.
The proposal, which notes "the chronic low level of compliance with existing notification requirements", would introduce administrative sanctions for countries that fall behind with their reporting obligations.
The WTO relies on its 164 members to submit notifications about trade-related policies such as agricultural subsidies, trading by state-backed firms, changes to product standards and other rules affecting imports.
Failing to publish such information promptly can sometimes lead to suspicions that they are trying to escape scrutiny and potential legal challenges by other WTO members.
The U.S.-led proposal means the transparency record would be much more closely monitored, and if any country missed a deadline by two years it would lose the right to chair WTO committees and to question other WTO members during regular policy reviews.
Such countries would also have to pay extra WTO membership fees, report to the membership annually, and be subject of specific reporting at the WTO's General Council. After three years it would be designated as "inactive", and named as such in WTO meetings.
The updated version of the U.S. proposal, reflecting the outcome of discussions to broaden support for it, introduces some leniency for developing countries struggling with their obligations.
It drops the U.S. plan to have WTO Director-General Roberto Azevedo directly contact trade ministers of governments that fail to keep up with their obligations. Although the transparency proposal came from the Trump administration, it reflects years of U.S. irritation about other countries filing WTO documents late, or never.
In 2014, Washington's patience ran out with China and it filed a "counter-notification" on Beijing's behalf, listing 153 Chinese firms that it thought should have been declared to the WTO because of their links to the state.
The United States followed up with a second Chinese list in December last year, and then filed a counter-notification about Vietnamese state-backed firms a month later. In May, it published an Indian counter-notification showing New Delhi had paid out seven times more than allowed in rice subsidies.
Under the proposal to enhance discipline, WTO members would be encouraged to provide such counter-notifications for other members "at any time.