Brazil expands agriculture area and expects another crop of almost 120 million tons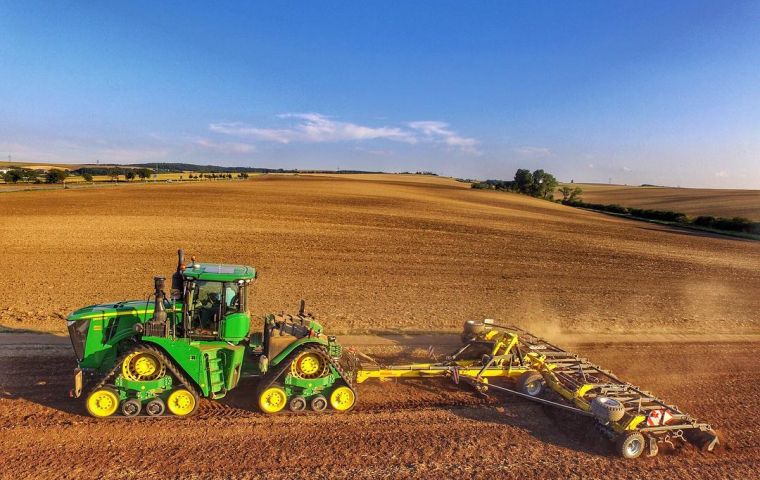 Brazil's National Supply Company (Conab) has released its monthly report this week, and it projects that the country will produce 119.4 million metric tons. Last season, the country produced 119.2 million metric tons. The surface would jump from 86.7 million acres to 89.2 million acres.
The government agency confirms previous data from private consultancy AgRural, based in Curitiba, that said that planting in the country reached 46% and is the fastest pace in history.
The planting jumped 12% in a week, 30% compared with the same period of last year, and 40% more than the average of the previous five years. In Mato Grosso, over 70% of the area was planted and 60% in Paraná.
Ag Rural production estimates diverge from Conab. It puts a total production of 120.3 million metric tons. The Brazilian Association of the Oil Vegetable Industries (Abiove) estimates 119.5 million metric tons. INTL FCStone projects 119.3 million metric tons.
"We have already ended the work of corn planting and soybeans have taken full speed in Parana. The weather is good and tends to continue to be good," says Paulo Bertolini, director of the Brazilian Association of Corn Growers and farmers in the northeastern part of Parana.
Agronomist Carlos Dellavalle from the Northeast of Rio Grande do Sul, the state that is the third-largest soybean producer in the country, says that corn surface has reduced for three consecutive years in the state, but in that region there is delay because of excessive rain.
"The rain has come back, and all the work will stop. We are trying to take advantage of the time. The work is very intense," said Dellavalle, who advises farmers in that southern state. Rains from 2.3 to 3.5 inches are expected to fall in the weekend in the north of Rio Grande do Sul.
Dellavalle pushes for more investment in inoculation as nitrogen fixation. "With the use of inoculants, the nitrogen is fixed naturally. Now a lot of farmers are using it and productivity would grow between 11 to 22 bushels," opined the agronomist.
In terms of the market perspective, analyst Carlos Cogo, from Porto Alegre, Rio Grande, do Sul, believes there is a downward trend. "We have a scenario that we will have a record crop in the United States, so the prices are going down."
"There will be more stocks in the U.S. and it is a fact that Americans are being affected by tariffs. In Brazil, it is also worse that the Real has appreciated, but premiums would go up in the midterm," added the analyst.