Palestinians condemn Bolsonaro's decision to move Brazil's embassy to Jerusalem
Saturday, November 3rd 2018 - 08:36 UTC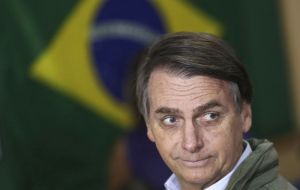 A senior Palestinian official on Friday condemned Brazilian far-right President-elect Jair Bolsonaro's announcement that he would move his country's Israel embassy to Jerusalem.
"These are provocative and illegal steps that will only destabilize security and stability in the region," Hanan Ashrawi, a member of the Palestine Liberation Organization's executive committee said.
The United States moved its embassy from Tel Aviv to Jerusalem in May, sparking fury among Palestinians, who consider the Israeli-annexed eastern part of the city the capital of their future state.
"It is very unfortunate that Brazil has joined this negative alliance against international law," Ashrawi said.
On Thursday Bolsonaro tweeted that "as previously stated during our campaign, we intend to transfer the Brazilian embassy from Tel Aviv to Jerusalem."
"Israel is a sovereign state and we shall duly respect that," he said.
Israeli Prime Minister Benjamin Netanyahu hailed the move as "historic".
Only the United States and Guatemala currently have their embassies in Jerusalem, while other countries have theirs in Tel Aviv.
Israel occupied Arab east Jerusalem in the 1967 Six Day War and later annexed it in a move never recognized by the international community. It sees the entire city as its capital. For decades the international community maintained that the city's status should be negotiated between Israel and the Palestinian.