Macri and PM May scheduled to hold a bilateral meeting at the end of the month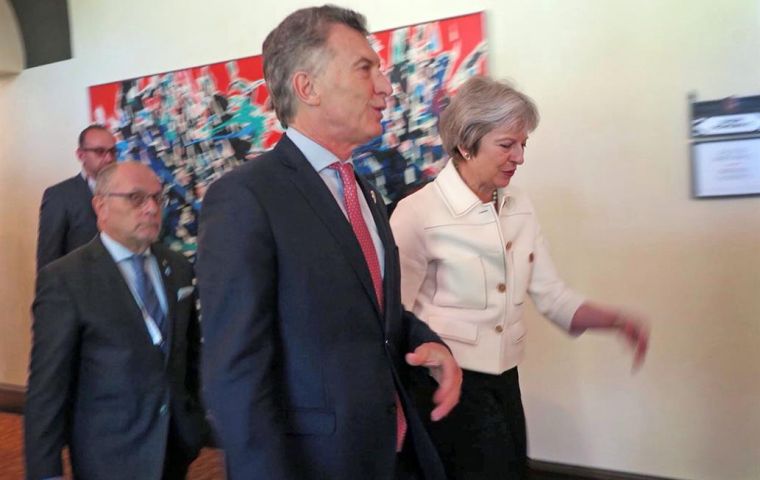 British Prime Minister Theresa May and Argentine president Mauricio Macri are scheduled to hold a bilateral meeting in the framework of the coming G20 summit to be held in Buenos Aires at the end of the month.
Although no date has been confirmed or the agenda, according to Argentine sources three issues outstand, an ambitious trade accord between Mercosur and the UK, increasing cultural and scientific relations, decisive support of multilateralism, free trade and open economies, and last but not least, the Falkland Islands.
The two leaders know each other since they have met at the annual UN General Assembly and at the G20 leaders' summit in Hamburg. Besides UK and Argentina coincide in their concern over the US/China trade war, support multilateral organizations to solve global controversies and strongly defend the Paris accord on climate change. Furthermore a trade agreement between Mercosur and UK, as London is readying to withdraw from the European Union would be to the benefit of both sides.
Likewise and again according to Argentine sources based on conversations held by several officials from the Macri administration in different occasions with their British counterparts, both sides are willing to reach a wide ranging bilateral agreement.
Argentina's new administration approach to world affairs is basically an intelligent and pragmatic insertion, rebuilding trust and creating the necessary opportunities for a long standing positive understanding.
Finally is the issue of the Falklands, and the Islands' sovereignty, both sides agree on dissenting and standing by their respective positions, but this should not impede to advance in the other fields. In effect neither side should appear to be caving in to the other's demand.
This should imply closer relations between Argentina and the Islands, in what foreign minister described as two peoples living in the South Atlantic integrated in a sole territory. A statement which cost Faurie a summons to the Lower House International Affairs commission, and strong criticisms from the Kirchnerite opposition. But he survived and it can be imagined also the policy of closer, direct, contacts between Argentina and the Falklands, as "in the nineties".