Soccer and the Holocaust exhibit in Argentina awarded German football tolerance prize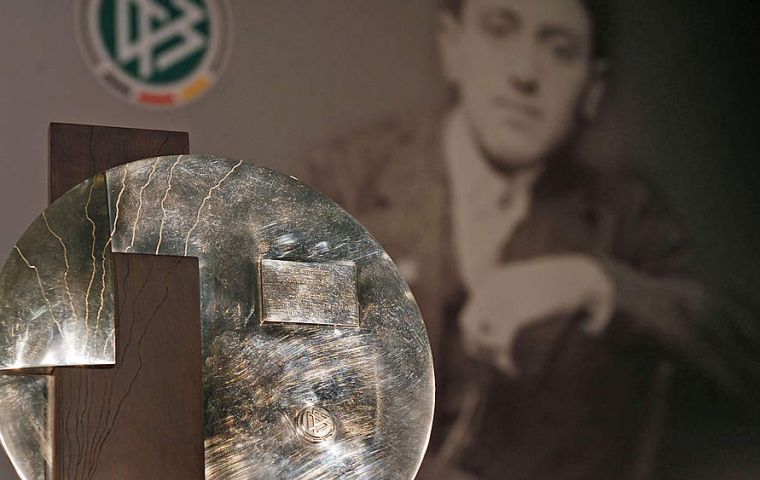 The German soccer federation is giving an award for tolerance for an Argentine exhibition of harrowing stories about soccer from the Holocaust era. The 11-panel exhibit — one for each soccer player on the field — tells the stories of teams and sportsmen who suffered under the Nazis.
The German Football Federation, or DFB, has awarded the Julius Hirsch Prize since 2005 for outstanding examples of integration and tolerance within German football, or soccer. This is the first time that a project from outside Germany will receive the award.
The exhibit, titled "It Wasn't a Game," is the brainchild of Jewish Argentine sportswriter Leonardo Albajari and researchers Gustavo Asmus, Guillermo Ibarra and German Roitbard. Albajari and Roitbard will receive the award on Nov. 18 at the German Football Museum in Dortmund.
The exhibit remembers Emerico Hirschl, a Hungarian Jewish coach who led Argentina's River Plate team to multiple national and international championships in the 1930s. Hirschl also was instrumental in helping Jews who did not have visas gain asylum in Buenos Aires at the time, despite the prohibitions of the Argentine government. Using his popularity, the coach convinced guards to allow Jews to enter the city's ports.
The exhibit premiered at River Plate stadium in March.
There are also stories of teams that suffered under the Nazis and were forced to rebuild after the war, such as Bayern Munich and Borussia Dortmund in Germany, Ajax in Holland and Austria Wien in Vienna. Some notable examples: Bayern Munich's president, Kurt Landauer, and coach, Richard Kohn, were forced to resign because they were Jewish. And an Ajax player, Eddy Hammel, helped the club win multiple championships before he was deported to Auschwitz in 1943.
Julius Hirsch, for whom the prize is named, is on one of the exhibit panels. He was the first Jew on the German national team. He also fought for Germany in World War I, but later was killed in Auschwitz.