Alpargatas closes Chaco factory, lays off all workers, sells facilities
Tuesday, November 6th 2018 - 14:30 UTC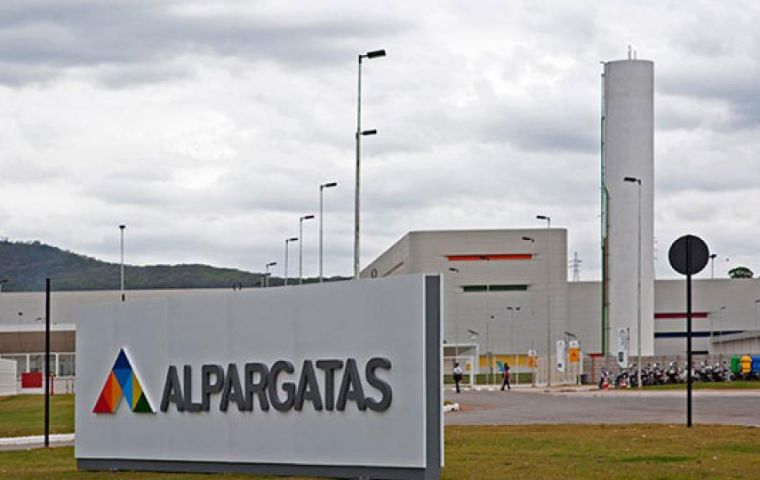 The clothing firm Alpargatas shut down its factory in the Argentine province of Chaco, it was reported Monday. The company made it clear it was not a temporary measure by laying off the entire staff and placing the facilities on sale. Further closures and subsequent dismissals nationwide look imminent.
The Brazilian capital company closed its plant in the city of Roque Saenz Peña, 170 kilometres from the provincial capital Resistencia, due to a sharp drop in demand. There were only still 30 people working because the firm had already been carrying out drip dismissals, in line with its general strategy of withdrawal from Argetina.
In mid-September, Alpargatas had asked the national government for the Preventive Crisis Procedure and sold 22.5% of the local operation to the Brazilian group Sforza.
Days later, the firm confirmed the closure of two production plants: 'Calzados Catamarca', where it dismissed 170 workers; and 'Alpargatas' (Ex Calzar) in the city of Santa Rosa, where 132 workers lost their jobs.
In this scenario, 400 workers fear for their jobs at the still operational plant in Bella Vista, in the province of Corrientes, because "there is no reactivation whatsoever," according to Roberto Vandecaveye of the Corrientes Textile Workers' Association.
He added that work at the plant is kept at a minimum "from Monday to Friday, with very little activity, machines stopped and sectors without lights, which is worriesome."
Dante Quintana, of Chaco's Trade Union of Oil Workers and Cotton Ginners (Stadyca), explained that "this Saenz Peña plant is the only one the company Alpargatas had in Chaco, which they bought 65 years ago from Fibramalva."
Quintana also admitted the workers had been warned that "by the end of the year they close everything, they sell and they leave Chaco." The closing of the plant is "a very strong socio-economic blow for Sáenz Peña," the second largest city in the province, Quintana lamented.
"The money from these salaries will stop circulating in the local commercial circuit and any severance money will go first to pay up debts and the rest remains to be seen," Quintana explained.
The union leader said that the closure of the plant responds to the sharp drop in activity: "This year, 3,700 tons of cotton were ginned, when in 2017 it had been 20,000 tons and in previous years more than 40,000 tons per year."
"This goes through the impressive fall in domestic consumption of clothes, yarns and fabrics. It is not that there is no cotton, there was a lot and there will be more in the next season; but the company only gins what it needs for its spinning mills; and as sales have fallen steeply, we reached this unfortunate end," he said.