France planning new aircraft carrier to replace the Charles de Gaulle
Wednesday, November 7th 2018 - 08:49 UTC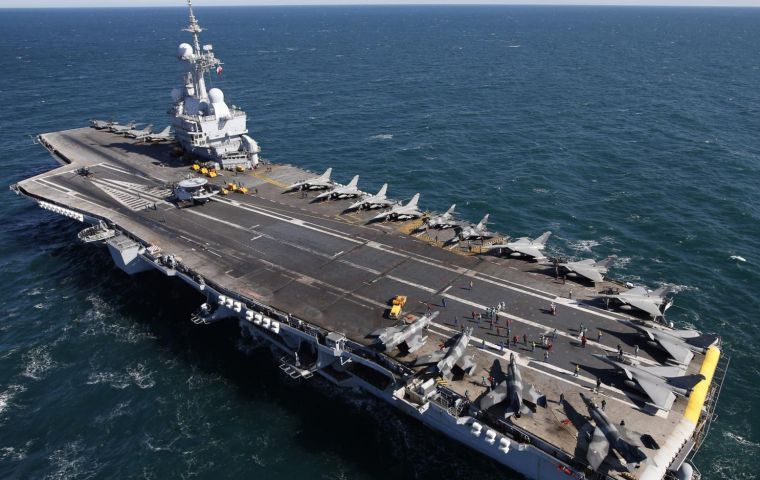 France's government launched plans on Tuesday for a new aircraft carrier, saying it will make a decision on how to build the multi-billion-euro warship in 2020. France currently has one carrier, the Charles-de-Gaulle, but is seeking to develop a replacement that would serve until 2080 and be adapted for next-generation combat jets.
"The Charles-de-Gaulle will need a successor," Defense Minister Florence Parly told reporters at the Euronaval industry expo in Le Bourget, north of Paris. "The first step which we're launching today is a study period," she said. "It's about deciding together what and how we want our future aircraft carrier to be."
The budget for the study period alone will be 40 million Euros. Running until 2020, it allows France to start organizing the vast industrial operation needed to construct the vessel.
The Charles-de-Gaulle has been deployed in conflicts from Afghanistan to Libya and is key to keeping France strategically independent at sea. The hulking 42,000-tonne vessel, which has also launched air strikes against the Islamic State group in Iraq and Syria, is due to be retired in 2040.
It has been undergoing a major upgrade since early 2017 in its home port of Toulon, southern France, and will not be back in action until next year when it heads to the Indian Ocean. Experts estimate that its replacement will cost between five and seven billion Euros.
Key issues to be decided during the study period include whether or not the new carrier will be nuclear-powered like the Charles-de-Gaulle, and how to accommodate new combat aircraft being jointly developed with Germany.