CNN correspondent banned from White House for challenging Trump
Friday, November 9th 2018 - 07:15 UTC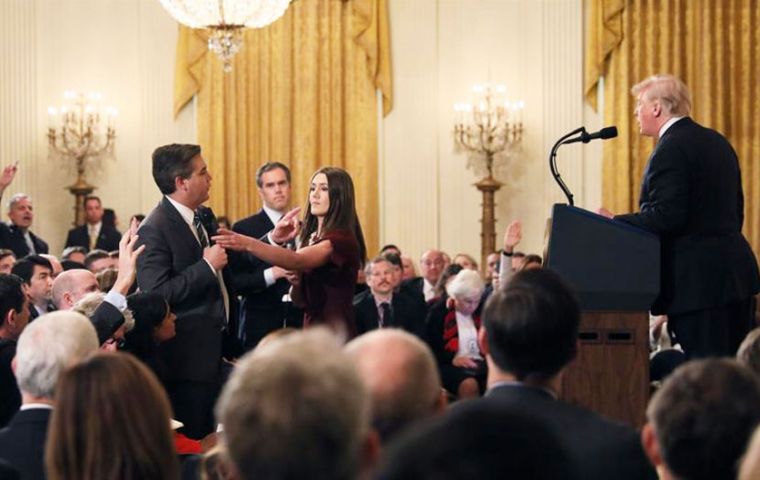 President Donald Trump's ongoing feud with Jim Acosta, CNN's chief White House correspondent, boiled over on Wednesday, with Trump verbally berating the journalist before the White House ultimately suspended his press access.

Acosta tweeted Wednesday night that he was denied access when he tried to enter the White House. He added in another tweet that he didn't "blame" the U.S. Secret Service agent who stopped him. "I know he's just doing his job," Acosta wrote.

Press Secretary Sarah Sanders later issued a statement that said the reporter's "hard pass" was suspended as a result of his attempt to keep control of a microphone during Wednesday's news conference with the president.

She said Acosta put "his hands on a young woman just trying to do her job as a White House intern" during the session, a claim that doesn't appear to be supported by video of the incident.

The press secretary called Acosta's behavior "absolutely unacceptable." She added, "It is also completely disrespectful to the reporter's colleagues not to allow them an opportunity to ask a question".

In a statement posted on twitter, CNN challenged Sanders' account and argued that the suspension of Acosta's credentials "was done in retaliation for his challenging questions at today's press conference."

"Press Secretary Sarah Sanders lied," the cable news network said of the explanation. "This unprecedented decision is a threat to our democracy and the country deserves better. Jim Acosta has our full support."

Speaking to CNN's Anderson Cooper on Wednesday night, Acosta said, "I never thought in this country that I wouldn't be able to go cover the president of the United States simply because I was trying to ask a question."

The White House Correspondents' Association said in a statement late Wednesday that it "strongly objects to the Trump Administration's decision to use U.S. Secret Service security credentials as a tool to punish a reporter with whom it has a difficult relationship."

The group added, "We urge the White House to immediately reverse this weak and misguided action."

Earlier in the day Trump called Acosta "a rude, terrible person" as he tried to ask the president a question. The exchange came during a White House press conference on the 2018 midterm elections, in which Trump called out failed Republican candidates who didn't "embrace" him.

Trump began taking questions and called on Acosta, who tried to ask about the president's characterization of a migrant caravan of roughly 4.000 Central American immigrants who are walking through Mexico to claim asylum in the U.S.

Trump immediately interrupted Acosta as the journalist began to ask his question. "Here we go," Trump said to Acosta.

Acosta then challenged Trump's use of the word "invasion" to describe the caravan and asked the president if he thought he had demonized immigrants. Trump then said he wanted immigrants to "come in legally."

President Donald Trump sparred with reporters at his post-election news conference, ordering several to sit down and telling another he's a "rude, terrible" person. He told yet another reporter he's "not a fan of yours, either."