Falkland Islands could have a new port in the next two years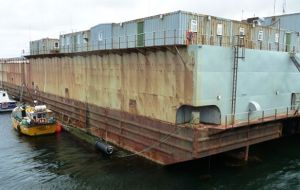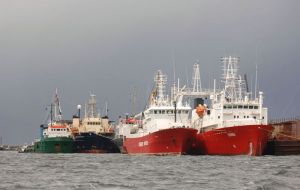 The Falkland Islands could have a new port within the next two years. Three consortia have presented proposals to the Falkland Islands Government (FIG) for a new port confirmed Legislative Assembly Member Dr Barry Elsby in recent weeks.
Inspections of part of the current port, FIPASS, "always give another five years, but this is no longer the case," he said.
Despite FIG committing over £11 million a year to make repairs and maintain FIPASS, the deterioration in the North-West Barge, "is such that it is no longer safe for ships to berth alongside," he told Legislative Assembly last week.
This week he told Penguin News: "We know it's a finite resource." Asked about the brief given for a new port, he said companies were told FIG was open to suggestions, either in the harbor or anywhere. "We left it deliberately open."
FIG told the companies they would need to show they had "the capacity to deliver, we'd also be prepared to talk about how it was financed, do you want to own it and run it, do you want to build it locally and rent it out to government, or government put in money to help."
MLA Elsby said the consortia presented their ideas and then worked with the Director Ian Robertson to develop them. They then "presented those formally to members of government and myself and MLA Roger Spink. All of them had local company involvement, some more than others, and all of them had external expertise … some of those are companies already here, but they had a proven track record delivering this sort of build."
The consortia were given past surveys reports undertaken on the subject.
"All were good presentations, all could do it, some were totally different to the others. But we as a government learned a lot from that about the capacity we had here in the Islands, and about the people they were linked with who could clearly do the business."
FIG decided not to specify where the port should be located: "because people had given various proposals and what we wanted to see were final proposals on both position and running costs; how would it work for the development of the fishing industry, what about the tourist industry, what about shipping?
"So the advert went out saying we want a port with this amount of berthing space, this amount of loading capacity on the edge, and then we allowed people to develop their own ideas and come back and sell it to us."
He has confidence that all of those consortia will bid. The advert will go out locally and also internationally in case of further interest.
Following that, a paper will go to ExCo in November/December in order for government to decide the way forward. The tender process will follow and then a phase where government will work with the preferred bidder to develop the concept, "working with that company to fine tune it, and the local industries, to be sure that we have thought of everything that we need for the foreseeable future, the next 40-50 years..."
He said even if it was not all built at once, there would be, "potential for expansion. So we are trying to make it future-proof as much as we can."
Asked about ownership he said this was "to be determined."
He added: "…some might want to put all the money up front, maybe some people in the Islands would like to do it; there's wealthy people here, maybe they will want to own a part of this and help run it."
They want the port to be, "usable for everyone. We're not trying to hit the industry. We are trying to use the port as a means of generating the economy of the Falkland Islands. We need to be sure that what we are going to build is run economically."
Government will have all or some influence over how it is run, he assured.
Regarding cold storage and letdown areas, he said, "there is no question we need more capacity; it's all about how we make more of the fishing industry onshore as an employer; it's a big part of our economy but employs very few people onshore."
Bearing in mind the infrastructure already built around FIPASS, a port in Stanley harbour is the obvious place, he agreed, although he believed there might be complaints about noise and light pollution. "But people are also looking at building it out in Port William still."
What will happen to FIPASS?
"It won't be just left, said MLA Elsby. He indicated removal may be part of the contract with the consortium that builds the port. (Penguin News)