Stamps on centenary of the end of WWI issued by BAT and SG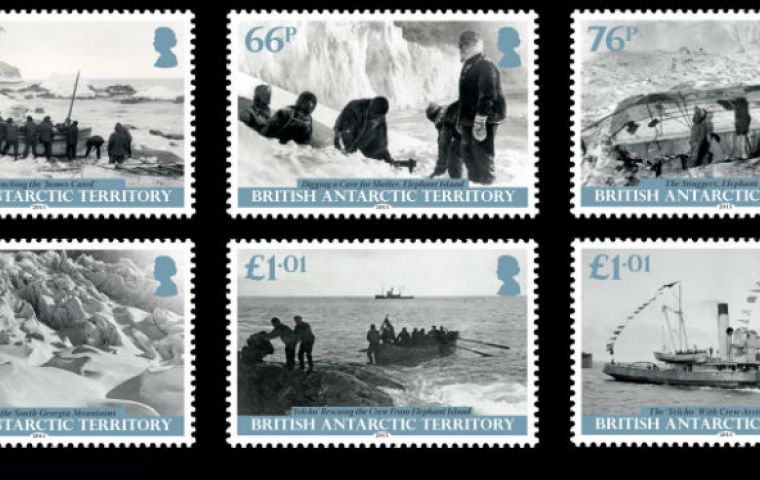 The British Antarctic Territory and South Georgia and South Sandwich Islands marked the centenary of the end of World War I with new stamps. The issue honors members of Ernest Shackleton's 1914-16 Imperial Trans-Antarctic Expedition who served in the war.
According to the press release from Popjoy Mint, which represents the two postal administrations, after the expedition "almost to a man, the explorers joined the armed forces or returned to their previous lives in the Merchant Navy."
The stamps are in se-tenant (side-by-side) pairs with the stamp on the left depicting the man and the stamp on the right showing his military honors.
The 76-penny British Antarctic Territory stamps feature Alexander Macklin, the surgeon aboard the expedition's ship Endurance and later a major in the Royal Army Medical Corps. He was awarded the Military Cross for bravery in tending the wounded.
The £1.22 stamps honor Joseph Stenhouse, who was awarded the Distinguished Service Cross for his role in the sinking of a U-boat and the Distinguished Service Order for his command of a flotilla of boats on Russia's Lake Onega.
Frank Worsley, the captain of Endurance, also was recognized for the sinking of a U-boat. He is featured on the £1.25 stamps from South Georgia and South Sandwich Island. The 80p pair recognizes Thomas Orde-Lees, who received the Air Force Cross for his pioneering work in parachuting. (Penguin News)