Falklands' support visit for veteran protesting treatment of his peers with PTSD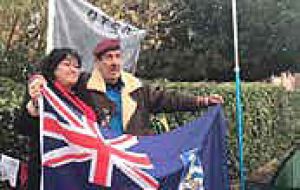 Falklands' conflict veteran Gus Hales, who has successfully protested against the treatment of combat veterans with post-traumatic stress disorder, was visited this week by Member of Legislative Assembly Leona Roberts to express her support.
Posting the visit on Facebook, Leona Roberts said "It was deeply moving to speak with Gus and his wife Angela, herself formerly an Army nurse - a brave couple, determined to make things better for others.
"Speaking personally, I find it distressing that any veteran -but particularly one of our lads -should feel it necessary to do this.
"Gus and Angela asked that I send their love to their many friends in the Falklands." On October 29 Mr Hales pitched a tent outside the treatment centre of charity Combat Stress, in Newport, Shropshire, and began a hunger strike to draw attention to his plight, and that of other veterans.
He had been receiving treatment from the charity for many years, he told the Daily Express, but his support was abruptly cut off in 2016. The centre was one of three run by Combat Stress, but NHS England has withdrawn £3.2 million in funding.
Mr Hales said: "There are veterans up and down the country living rough on the streets tonight and this place is empty. It's madness ... I personally know 10 men I served alongside who have taken their lives since returning from the Falklands ... I have been ignored for too long. I have no choice other than to protest by hunger strike."
Mr Hales' former troop commander General Sir Peter Wall, president of Combat Stress, pledged to review the treatment of former service members.
Combat Stress has admitted it had fallen "well short of accepted practice" in the case, and said its review would identify any other veterans who may have been improperly discharged.
In 1982 Gus Hale cleared minefields and was a witness to the bombing of the landing ship Sir Galahad. (PN).