Axion cuts down fuel price in Argentina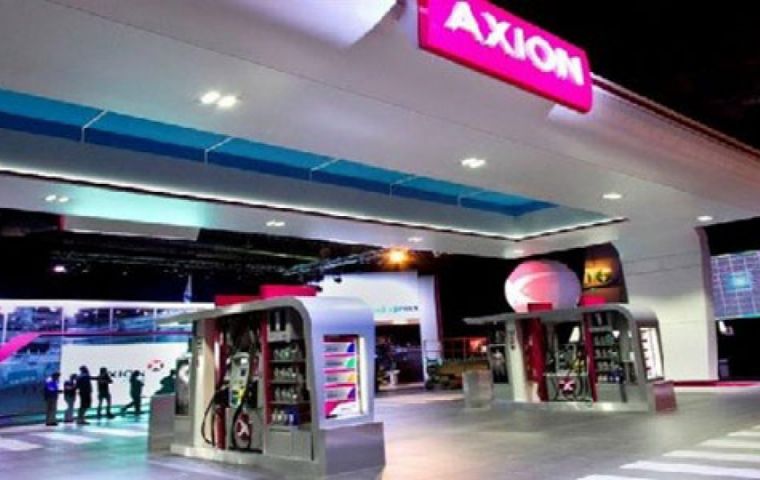 Fuel retailer Axion cut down its prices by 3.2% in Argentina, in line with declines of both the US dollar exchange rate and the international oil barrell, it was reported Saturday. Other companies are expected to follow suit shortly.
Argentina's tradition was to tie every domestic retail price to the US dollar or to the international demand of that particular item. But it had only worked upwards, meaning prices never came back down when all those factors moved in the opposite direction.
Thus, Axion's decision is somewhat shocking to observers of Argentine history, however normal it may sound to orthodox economists, even if - as Axion has admitted - "the adjustment responds to a commercial strategy."
Axion gas stations started selling at the newer, lower prices as of midnight Saturday, according to the company.
Gasoline had gone up 7% on average since the end of September and Axion was losing ground to state-run YPF, which had increased its prices only 2%, drawing most motorists to long lines at their pumps.
Fuel had gone up 14 straight times in Argentina in 2018. Axion's decision reverted that trend in a historical move.
Although in December there will be a rise in the tax on fuel, the Government argues that companies should not apply a new increase because they have already managed to balance the parity indexes and according Energy Ministry sources, oil companies have margins above the world average, which means that the fuels do not have to rise.
With an exchange rate of 36.5 AR$ = 1 USD, one litre of gasoline sells for 1.23 USD, which is above the international average price.