FARC said to be regrouping to resume guerrilla fighting in Colombia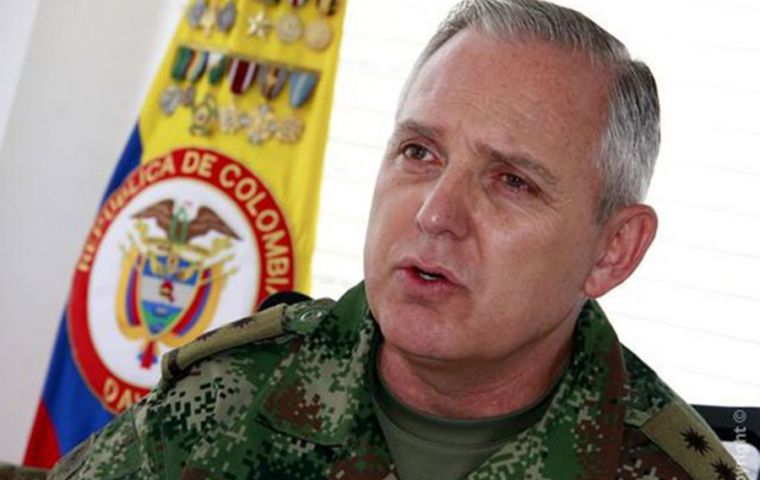 Colombian Armed Forces commanding officer General Alberto José Mejía is aware of the existence of a plan to refund the FARC guerrillas and those behind it would be the group's former leaders, Radio Caracol reported this weekend.
"The commander of the Military Forces, General Alberto José Mejía said recently that there is information about a possible plan to refound the FARC and that those behind this would be former leaders of the defunct guerrilla," Radio Caracol announced.
The allegedly extinct Colombian Revolutionary Armed Forces (FARC) are considered to be "a criminal entity with strategic plans," according to Mejía.
He added that his troops were prepared to neutralise this possible threat. "For that we are also working" to meet "the dynamics that are required."
Mejía himself had no knowledge of such a plan to "refound" the FARC guerrillas back in July. "There is no plan to refound the FARC, there is a plan to strengthen drug trafficking, to articulate with transnational organized crime, to dominate the entire drug trafficking chain in certain regions of the country," he had said in a radio interview.
The most powerful rebel group in South America, which for half a century has failed to seize power in Colombia, was said to have been disarmed and transformed into a political party as part of the peace agreement signed at the end of 2016.
The bulk of the guerrillas, some 7,000 fighters, laid down their arms although several hundred rebels withdrew from the peace negotiations.
According to military intelligence, the dissidents have been operating without a unified command and have a force of 1,200 fighters distributed in key territories for drug trafficking or illegal mining, although press reports have estimated the rebels to be around 4,000, based on "figures from analysis centers and foreign intelligence agencies."
Those reports were downplayed in July by the government, which barely admitted there was a "residual group with fewer weapons and fewer capacities," but that assessment is likely to change in light of the new information available.
The former communist guerrilla, which decided to keep the acronym FARC in its political life, has denounced the death of some 70 ex-combatants and relatives since the signing of the peace accord as well as some allegedly serious breaches of the peace commitments made with the outgoing government of Juan Manuel Santos.