Myanmar's Aung San Suu Kyi no longer deserving of Amnesty International award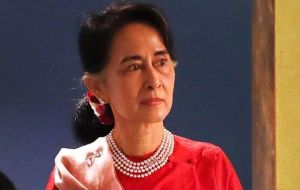 Myanmar's Aung San Suu Kyi, once deemed worthy of Amnesty International's highest honour, was stripped the the human rights organization's Ambassador of Conscience Award, which she received in 2009, due to "shameful betrayal of the values she once stood for," it was announced Tuesday.
"Today, we are profoundly dismayed that you no longer represent a symbol of hope, courage, and the undying defense of human rights," Amnesty's secretary general, Kumi Naidoo, wrote to Suu Kyi.

"Amnesty International cannot justify your continued status as a recipient of the Ambassador of Conscience award and so with great sadness we are hereby withdrawing it from you," he added.

Amnesty criticised the Nobel Prize winner in a press release for her failure to use her "political and moral authority" to protect human rights in her country and for her "apparent indifference" to military atrocities in ethnic areas. Suu Kyi is said to have "actively shielded the military from international scrutiny and accountability," in Naidoo's words.

The former human rights champion was also accused of "increasing intolerance of freedom of expression." Besides Amnesty's award, she has been stripped of a number of prestigious disctinctions such as the US Holocaust Memorial Museum's Elie Wiesel Award granted to her in 2012.

In November 2017, Suu Kyi was stripped of the Freedom of the City of Oxford award, with which she was honoured in 1997 for "her opposition to oppression and military rule in Burma." She had studied at Oxford University's St. Hugh's College as an undergraduate, but her portrait has since been removed. And in September, Canada's House of Commons voted unanimously to revoke her honorary citizenship amid allegations of genocide of the country's minority Rohingya Muslim population.

Amnesty's announcement comes as officials in Myanmar and Bangladesh get ready to repatriate more than 2,000 Rohingya refugees who fled a brutal military crackdown in Myanmar's Rakhine State last year. The Myanmar military has been accused of using rape, murder and arson in a systematic campaign of ethnic cleansing that drove more than 700,000 Rohingya to flee to Bangladesh, where they languish in what has become the world's largest refugee camp.
The United Nations has called on the International Criminal Court of Justice to undertake and investigation on the involvement of Myanmar's military leaders in genocide.

Suu Kyi, who currently serves as Myanmar's State Counsellor, a position akin to that of a Prime Minister, has repeatedly denied abuses occurred in Rakhine State, saying the military was responding to attacks from Rohingya militants. Since she took office in 2015, human rights activists and journalists have continued to be arrested and imprisoned for their work under repressive colonial-era laws, Amnesty said.

"We have also been appalled to witness your administration spread hate narratives against minorities, fostering rather than challenging discrimination and hostility," Naidoo said told her in the letter.

Government propaganda portrays the Rohingya as illegal Muslim immigrants from Bangladesh and labels them "Bengali."

In taking its final decision, Amnesty also considered military operations in other areas of the country, where more than 100,000 people have been displaced in years of civil war.

Suu Kyi's government has actively curbed freedom of expression, arresting "human rights defenders, journalists and other peaceful activists," Naidoo explained.

Earlier this year, Reuters reporters Wa Lone and Kyaw Soe Oo were sentenced to seven years in prison for breaching the country's Official Secrets Act when investigating military atrocities.

Suu Kyi was under house arrest when she was chosen Amnesty International's Ambassador of Conscience in 2009 for her peaceful and nonviolent struggle for democracy and human rights.

Naidoo vowed to continue "to fight for justice and human rights in Myanmar -- with or without her support."
Suu Kyi is the youngest daughter of Major General Aung Sang, who is considered to be the Father of the Nation of modern-day Myanmar. She was awarded the Nobel Peace Prize in 1990.