California fire fighters manage containment lines; official death toll is 48 and dozens remain missing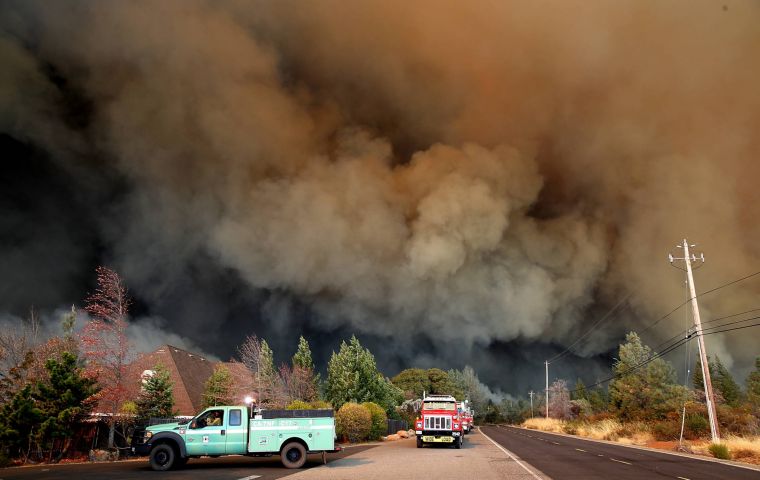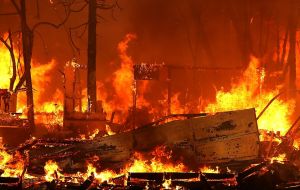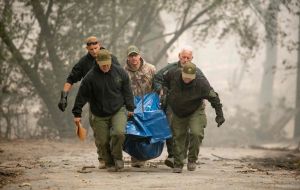 Crews battling a deadly wildfire in northern California have managed to hold their containment lines, the state fire service says. They have contained 30% of the fire, stretching over 125,000 acres (50,500 ha), but do not expect to contain it fully until the end of the month.

In the ruined town of Paradise, Butte County, forensics teams are continuing to search for human remains. The official death toll has risen to 48, with dozens of people missing.

Another blaze in the south of the state, the Woolsey Fire, has killed at least two people, damaging beach resorts including Malibu, a favorite with the rich and famous. It is still burning across more than 96,000 acres but is 35% contained, the state fire service tweeted.

nother, smaller blaze, the Hill Fire, is 90% contained in Ventura County, north of Los Angeles.

Convoys of fire engines could be seen rumbling through the charred ruins of the town of Paradise on Tuesday, Reuters news agency reports, as crews headed out to fight the deadliest wildfire in the state's history.

orkers used chainsaws to clear downed power lines and other obstacles from the streets. At least 6,607 residences have been destroyed in the county along with 1,032 commercial and other structures.

"Thirty percent [containment] is kind of where we're getting close to rounding the corner," said Cal Fire spokeswoman Erica Bain.

"When we're in the 30s and 40s, they're getting a good handle on it. By the end of this week I'd like to see that number up to 40, maybe 45."

nother Cal Fire representative, Scott McLean, said firefighters were now more optimistic because of changing weather conditions.

Three portable morgue teams have been requested from the US military along with a "disaster mortuary" crew, cadaver dog units to locate human remains and three groups of forensic anthropologists.

Many victims in Paradise are believed to have been elderly residents or people with mobility issues who would have found evacuating more difficult.

The California Public Utilities Commission is investigating what sparked the latest blazes - amid reports electrical companies may have suffered malfunctions near the sources shortly before the fires began.

ow humidity, warm Santa Ana winds, and dry ground after a rain-free month have produced a prime fire-spreading environment.

The state's 40-million-strong population also helps explain the fires' deadliness. That number is almost double what it was in the 1970s, and people are living closer to at-risk forest areas.

And then there's climate change. Recent years have produced record-breaking temperatures, earlier springs and less reliable rainfall.

Citing the role of a warming climate, California Governor Jerry Brown declared: "This is not the new normal, this is the new abnormal."