Double victory for Argentina's Macri ahead of the G20 leaders' summit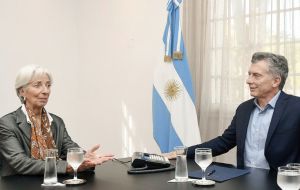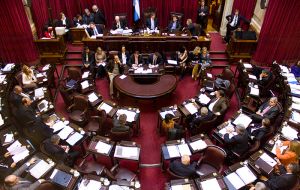 Argentina's Senate on Thursday gave final approval to an unpopular austerity budget designed to meet the stiff requirements of a US$ 57.1 billion International Monetary Fund bailout. Approval came as a great relief for battered president Mauricio Macri, but also a double victory, since it opens the way for his reelection aspirations next year.
After more than 12 hours of debate the vote on the spending blueprint for 2019, which already passed the lower house of congress last month, was 45 in favor, 24 against and one abstention. Unions and civic groups protested all day outside the congress building during a debate that lasted into early morning Thursday.
The bailout is supposed to help Argentina recover from an economic crisis that has seen the peso lose half of its value this year. Inflation is forecast to finish the year at 40 percent and the economy is expected to shrink by 2.6% next year.
However for president Macri the ample Senate support meant he can now comfortably host the end of the month G20 leaders' summit and comply with the confidence deposited on him and his reforms by the United States, China and the European Union. Besides he can face IMF's Christine Lagarde on a same level following weeks of tough negotiations.
But even more significant, the Senate showed that once again his fragile Cambiemos (Let's Change) coalition, could overcome the opposition majority, which remains deeply divided, splintered and unable on deciding on a new leader with strong chances, if united, of regaining the presidential office next October.
This means that with international support, a good harvest (to overcome this year's dramatic drought), and an economy beginning to recover, hopefully helped by Brazil, in the second half of 2019, Macri could make true his dream of another four years in the helm of Argentina.
Said this, conservative Macri has pledged a swathe of cuts in health, education, science, transportation, public works and culture next year to the tune of US$10 billion. Street protests have reflected growing public anger after Macri slashed traditionally safe civil service jobs as part of a bid to cut Argentina's fiscal deficit and tame inflation at the IMF's behest.
The budget deficit was 3.9% of GDP last year and government aims to get it down to 2.7% in 2018 and zero by the end of next year.
Macri's Cambiemos coalition in congress needed support from the divided Peronist Justice Party to get the budget passed.
The budget "calls for sacrifice as part of a crisis that blew up everything. Voting against it would send a very bad signal at the international level," said Miguel Angel Pichetto, head of the Justice Party bloc in the lower chamber.
Despite all the complaints, the vote Thursday went smoothly as Macri has reached agreement with Argentina's provinces on providing them with financing even with all the spending cuts.
The vote came a day after S&P cut Argentina's long-term foreign and local currency ratings to 'B' from 'B+' following a review dating back to August. "There has been an erosion of Argentina's economic growth trajectory, inflation dynamics, and debt profile following setbacks in implementing its challenging economic adjustment program," S&P
IMF spokesman Gerry Rice told reporters in Washington that passage of the budget law was a "very positive step" that "points to a clear commitment by the Argentine authorities and a broad spectrum of Argentina's political forces to strength the country's economic policies."
Rice also said that IMF chief Christine Lagarde is likely to meet Argentine President Mauricio Macri during the Nov.30-Dec.1 Group of 20 summit of world leaders that will take place in Buenos Aires.
Senators allied with former leftist President Cristina Fernandez voted against the measure and she argued that "what we are going to do with this budget is deepen the suffering of Argentine society, and it will be a useless sacrifice", adding "we all know that the recession is going to deepen."
Head of the Cambiemos block Senator Luis Naidenoff called it an "emergency budget" forced by external economic problems that include a slumping GDP, high inflation and rising unemployment, and the surfacing of a huge corruption network which has frozen all public works. This is because the heads of the main contractors are in jail, under home arrest or trying to work out a confession plea.