EU leaders dismiss renegotiation of the draft Brexit deal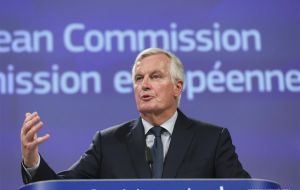 EU leaders have dismissed talk of renegotiating the draft Brexit deal and warned the UK's political situation could make a "no-deal" more likely. German Chancellor Angela Merkel said there was "no question" of reopening talks as a document was "on the table".
Meanwhile French PM Edouard Philippe said there was a need to prepare for a no-deal because of UK "uncertainty". The EU has set out a series of meetings leading up to 25 November when it plans to approve the Brexit agreement.
However leaders admit that there is still much ground to cover after the UK Prime Minister Theresa May won backing on Wednesday from her cabinet for the 585-page draft agreement.
"We still have a long road ahead of us on both sides," the EU's chief Brexit negotiator Michel Barnier said.
On Thursday, Mrs Merkel said she was pleased that progress had been made. But following news of resignations from Mrs. May cabinet including the UK's Brexit Secretary Dominic Raab, she said it was possible that Britain may still leave without a deal.
She also said that there was no appetite for further talks on possible amendments to the current agreement. "We have a document on the table that Britain and the EU 27 have agreed to, so for me there is no question at the moment whether we negotiate further," she said.
Mr Philippe appeared to echo her sentiment over UK political uncertainty. "It will escape no-one that the current political situation in Britain could fuel uncertainty... over the ratification of the accord," he said.
The European Parliament's Brexit chief Guy Verhofstadt said the deal had been hammered out after two years of "intense negotiations" and he hoped UK MPs would accept that "there is not a lot of room [for] manoeuvre to say, 'OK, let's start again'".
French Finance Minister Bruno Le Maire said the deal was "good news for the French economy" but also issued caution, saying the UK must be made to respect all EU rules.
Speaking on Thursday alongside EU Council head Donald Tusk, Mr Barnier said the agreement was fair and balanced, took into account the UK's needs and laid the ground for an "ambitious new partnership".
Mr Tusk praised Mr Barnier's work and said the agreement had "secured the interests of the 27 member states and EU as a whole".