Number of Argentine soldiers buried in the Falklands and fully indentified now totals 103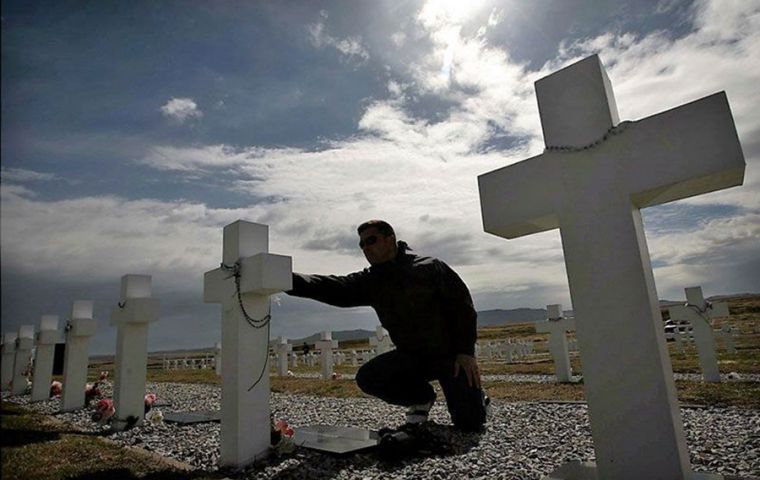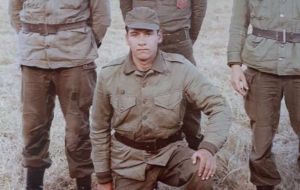 Argentina has announced the identification of combatant 103 whose remains are buried in the Falkland Islands and after 36 years will have a gravestone with his full name, at the Argentine military cemetery in Darwin, Victor Rodriguez.
"The (Argentine) Human Rights Secretariat reports a new positive identification in the framework of the Faklands/Malvinas Humanitarian Project Plan" announced the office in Buenos Aires on Friday.
Víctor Rodríguez was a conscript from the Buenos Aires province county of Banfield, where he worked to help his family meet ends. His father was a laborer at a local manufacturing plant and his mother worked at a school.
Victor belonged to Company C from Infantry Regiment 7 and spent most of his time in trenches at Mount Longdon, where he died fighting between 11/12 June 1982 when the final advance of the British Task Force to take Stanley.
He was buried at Darwin and since he had no identification or dog tag, as happened with most Argentine conscripts, his remains rested in a grave, as a total of 122, which read "Argentine soldier only known unto God".
When the South Atlantic conflict was over, a young officer from the Argentine Army visited the Rodriguez family to inform them that Victor was missing in action.
"My mother suffered terribly" recalls Nora Rodríguez, sister of Victor, who was only four years old when he left to never return. "We always yearned to know what happened, or where he was buried so we could mourn him and at least take a flower".
But 36 years later with the implementation of the humanitarian project agreed between UK, Argentina and Falklands consent, the identification process with forensic experts under the guidance of the International Commission of the Red Cross changed the situation. In effect of the 122 unidentified graves at the Argentine military cemetery in Darwin, with Victor, 103 now have a full name.
"Each time we report to the families a positive identification, we feel we are settling a long standing debt of the Argentine state with our Malvinas heroes and their beloved ones", said Claudio Avruj, Human Rights Secretary following the notification to Nora Rodríguez and Mabel Godoy, who was Victor's girlfriend when he left for the war.
"Thanks to an open and sincere dialogue, we have managed to overcome many obstacles and working together achieved something very important for the memory of our heroes and to consolidate the Malvinas cause, which is a national commitment of this government", added Avruj.
"We are very much satisfied with the Humanitarian Plan and the spirit with which it is evolving".
The anthropology forensic report was delivered to Nora and Mabel, together with some small belongings found with the remains of Victor, but what most impacted was a medal of the Miraculous Virgin. Nora and Mabel in tears said "it was Victor's, he always carried it with him".