ARA San Juan: Judge of the case will have some 67.000 images of where the sub rests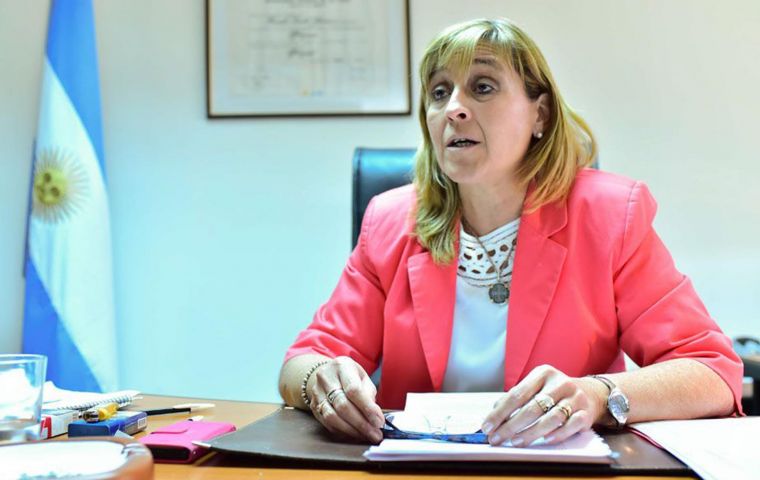 The Argentine federal judge from Caleta Oliva in Patagonia, under whose jurisdiction the loss of the ARA San Juan occurred is expected in Buenos Aires to analyze a raft of some 67.000 images taken by the Seabed Constructor of the collapsed submersible. These include photos videos, taken by the US rescue company before leaving for South Africa.
Judge Marta Yañez talking with the Argentine media said that she will begin, or rather continue questioning relatives of the submarine crewmembers and suggested there are indications of what could have possibly triggered the accident, and responsibilities. ARA San Juan was found some 907 meters deep and some 600 kilometers from Comodoro Rivadavia.
Meantime the Argentine government announced that the collapsed submarine will not be lifted from the South Atlantic crevasse where she rests because of technical and financial reasons.
Once in Buenos Aires Judge Yañez will be able to see an outlay of the sea bottom in an 80/100 meters radius pictured by the remote controlled underwater subs from the Seabed Constructor.
"It's a puzzle but it should give us a clear idea of how ARA San Juan rests in the bottom of the ocean", said Judge Yañez. Anyhow there could be some delay because the Seabed Constructor is sailing for Cape Town, and relatives of the submarine's crew and Argentine Navy members will have to fly back from South Africa.
The judge also said that besides all the data and pictures supplied by Ocean Infinity, there is abundant material to be handed by the relatives and navy observers. "It has been a great gesture from Ocean Infinity since under contract they only had to supply a few pictures of the discovery itself, evidence of the existence of the collapsed structure and thus put an end to any kind of speculations or manipulation".
So far the court case has statements from some 80 witnesses including relatives and navy officers and staff. Judge Yañez admits there are indications of what could have happened since in July 2017, apparently the sub suffered a similar incident to that reported on 15 November, referred to a snorkel valve. But "we need to be cautious and wait for all the possible evidence. Once we determine this we can look for responsibilities, but it's a long task". "My only objective is to reach the truth of what happened".