California inferno: 80 dead, 1,200 missing, 13.000 home turned into dust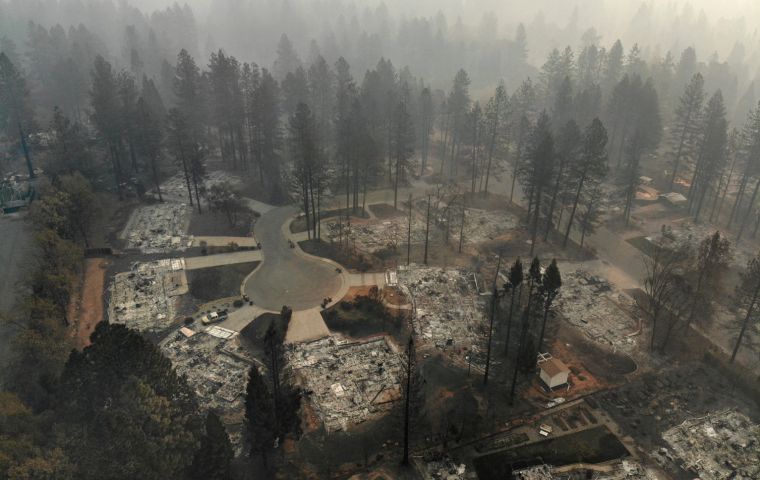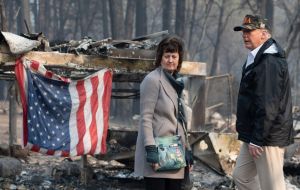 The number of people who remain missing in the wake of a pair of ferocious wildfires that have been blazing across both ends of California for more than a week spiked to more than 1,200 late Saturday.

The two monstrous blazes, which both ignited last week, have claimed a total of 80 lives while laying waste to a total area of nearly 400 square miles, according to the California Department of Forestry and Fire Protection. Officials said that 63 of the remains have been positively identified so far.

The vast majority of the deaths -- 77 total -- were due to the Camp Fire in Northern California's Butte County, making it the deadliest and most destructive wild-land fire in the state's history.

The number of people missing or unaccounted for in Butte County was 1,202 as of Sunday, though those figures may continue to fluctuate as authorities track down the names on the list, according to Butte County Sheriff Kory Honea.

Trump stopped first in Paradise, where he called the damage "total devastation." "We've never seen anything like this in California," Trump said. The president later visited Malibu to tour devastation from the Woolsey Fire.

Meanwhile, the smoke from the flames has descended across the Golden State and choked the air in major cities, including San Francisco. Officials have advised residents in the affected areas to remain indoors and wear a protective mask outside.

The National Weather Service issued a red flag warning for California through Sunday as humidity drops and wind gusts could get up to 40 mph in the Camp Fire zone.

The Camp Fire had burned more than 149,000 acres as of Saturday evening, and destroyed nearly 13,000 structures, according to the California Department of Forestry and Fire Protection.

Thom Porter, chief of strategic planning for the California Department of Forestry and Fire Protection, said the body count is expected to climb higher as search crews continue sifting through the destruction.

"It is by far the most deadly single fire in California history and it's going to get worse, unfortunately," Porter said of the Camp Fire.