HMS Protector with ensign at half mast in Buenos Aires to honor ARA San Juan and its crew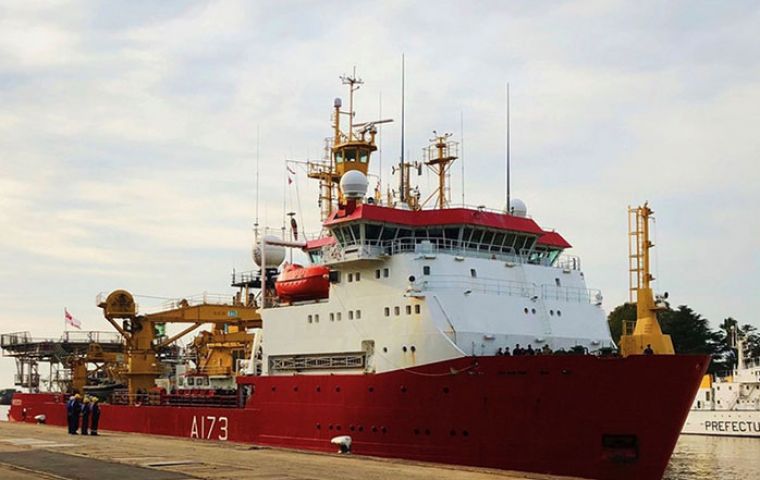 The Royal Navy Ice Patrol HMS Protector arrived on Sunday morning to Buenos Aires port with her ensign at half mast in recognition to the discovery of the lost Argentine submarine ARA San Juan and to honor the lives to its 44 crew. ARA San Juan went missing in the extreme South Atlantic of Argentina on 15 November 2017, while sailing from Ushuaia, Tierra del Fuego to its base in Mar del Plata.
She was finally found at a depth of 905 meters by a US deep sea surveying company, and HMS Protector which was among the first vessels to join the search a year ago twitted, "This morning our entry into port saw our ensign at half mast in recognition of the discovery of #ARASanjuan. Our thoughts remain with the families of those who remain on eternal patrol".
The twit was followed by a minute of silence to honor the 44 seafarers who lost their lives in the line of duty. Pictures of HMS Protector arrival to Buenos Aires were also released as a further twit referred to Argentina's tall ship Navy school vessel, ARA Libertad "looking great in the rising sun just outside #BsAs this morning".
"Exactly 12 months ago we sailed into huge seas in our search for our fellow seafarers of the #ARASanJuan. Today we held a one minute silence to mark this anniversary and to acknowledge this morning's news from @Armada_arg. Tomorrow we will be amongst friends in South America".
The Ice Patrol is involved in hydrographic tasks to help improve charts and navigation in the South Atlantic and Antarctica, as well as supplying UK bases in the white continent and supporting research by the international scientific community in the region.
Last April HMS Protector called at Buenos Aires before leaving for the Indian Ocean on scientific and charting missions and last month was in Antarctica at the beginning of the austral season.
Last year when the ARA San Juan tragedy HMS Protector and HMS Clyde as well as air support from the Falkland Islands joined for weeks a massive international search operation which lasted for weeks but at the time proved unsuccessful.