Colombia to cut all diplomatic ties with Venezuela starting in January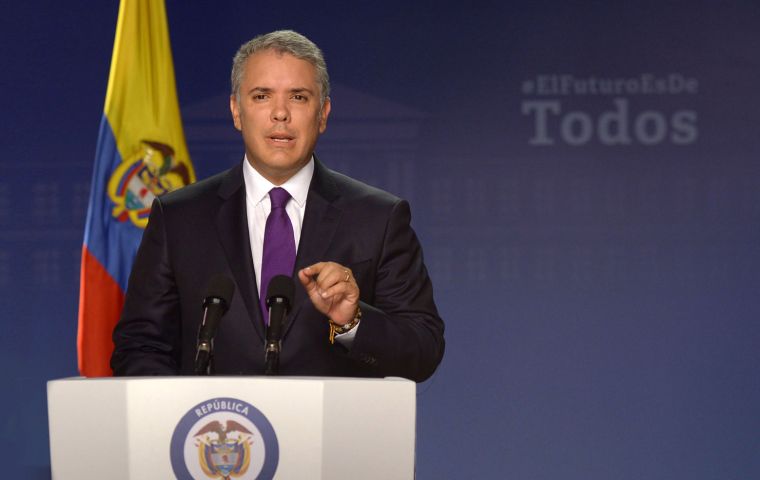 Colombian President Iván Duque announced that his country will sever all diplomatic relations with Venezuela as of January next year when Nicolás Maduro, whom he considers to be a "dictator," starts a new consecutive term as head of state.
"We will not make the pantomime to keep diplomatic relations," said Duque in reference to Venezuela's alleged support to the National Liberation Army (ELN) terrorist group operating in Colombia. In his view, Venezuela is in breach of Resolution 1373 from the United Nations' Security Council regarding terrorism.
Venezuelan Defense Minister Vladimir Padrino López has denied any association with the ELN. And ELN leaders have downplayed the alleged connection between their organization and the Caracas government, calling it "another Washington myth."
The reported involvement of Maduro's regime in human rights violations has been a constant topic in the region. In July past, the governments of Argentina, Chile, Colombia, Paraguay, Peru and Canada asked the prosecution of the International Criminal Court (ICC) to investigate those crimes in Venezuela since April, 12, 2014.
Venezuelan authorities claim the more than 100 deaths that have been recorded since that date are the result of organized and funded anti-government opposition.
Other countries to lower their diplomatic ties with Venezuela after the fraudulent reelection of Maduro include the Lima Group (Argentina, Brazil, Canada, Chile Colombia, Costa Rica, Guatemala, Guyana, Honduras, Mexico, Panama Paraguay, Peru and Saint Lucia) and European countries such as Spain, Germany and England.