Brazilian farmers in Mato Grosso satisfied with the soybean planting progress
Wednesday, November 21st 2018 - 08:32 UTC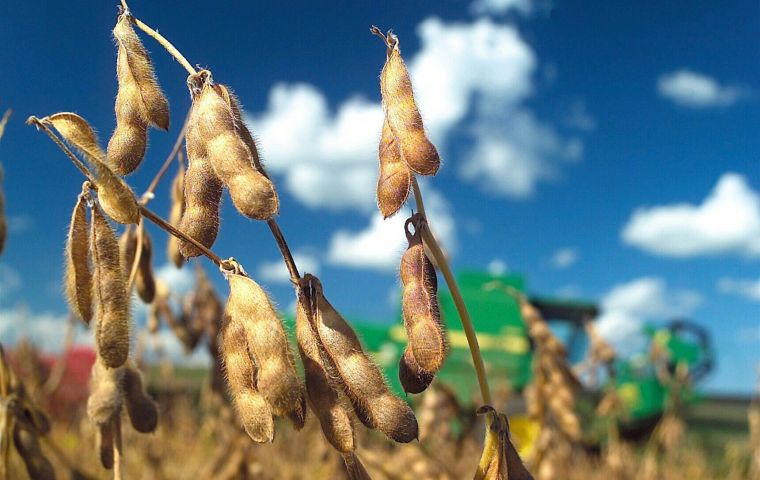 Brazil's Mato Grosso farmers are happy about their soybean planting progress this year, as they have finished sowing almost 90% of their soybean acres and are expecting an early harvest at the end of December.
"The weather is so good this year, as rain comes to the state early and keeps going on almost every day," said Daniel Latorraca Ferreira, director of the Institute of Economics and Agricultural Mato Grosso, (IMAE). "This good weather will help the crop development, and we will be able to start harvesting at the end of December."
Soybean crop conditions in Mato Grosso remain good with optimal weather in both the planting season and early development stage. Farmers believe that this early crop is not only good for soybean production in the current season, but also will help farmers to plant the second "safrinha" corn crop after the soybean harvest.
"Our earliest planting was Sept. 19 this year after a reasonable rain," said Gladir Tomazelli, who farms near Campo Verde with his son, Pedro.
"These beans will be available to harvest on Jan. 10. The latest planting time was at Oct. 20 and will be harvested in the beginning of February. It took us one month to plant out 3,000 hectares (7,413 acres) of soybeans, include some of the raining days."
Only a few farmers in the east of Mato Grosso are still planting, because of the late rain in some pocket areas.
"I am in a hurry to plant now. Rain came to my region later this year, but we will be finishing this week," said Marcos da Rosa, former president of Aprosoja Brazil, who spoke to DTN over the phone from his planter.
As of the end of last week, Brazilian farmers had planted 82% of their total soybean acres, compare to 67% over a five-year average.
Mato Grosso, the largest soybean-producing state, had finished 98%, according to report from AgRural, a Brazil consulting company.
"Overall, this was the best soybean planting season in Brazil history," said Rafael Silva, AgRural's Mato Grosso representative. "Mato Grosso farmers are finishing their planting way before the planting window closes.
Parana, the second-largest soybean-producing state, was doing good in planting the first couple of weeks. Then, because of the rainy days, planting progress was getting slower, but over 89% acreages had been seeded also. The rest of the country are all doing good. If weather helps, Brazil may harvest 1% of its soybeans in December and close to 20% in January. That is about 25 million tons of soybeans, thanks to the early planting season."