Spanish PM insists Gibraltar is a bilateral issue between Madrid and London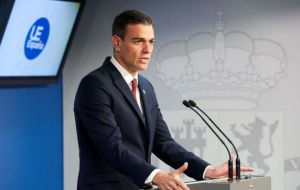 Spain will vote against the divorce agreement between the European Union and the United Kingdom unless Gibraltar's future relationship with the bloc is considered a bilateral issue between Madrid and London, rather than between the EU and UK, Spanish Prime Minister Pedro Sanchez has said.
Spain wants a veto on Gibraltar's inclusion in any deal on the future relationship, the next phase of the Brexit negotiations once the draft Withdrawal Agreement is agreed.
Without that veto, Mr Sanchez said he will vote against the Brexit withdrawal agreement at a special EU summit on Sunday. The position was first set out by Spanish Foreign Minister Josep Borrell on Monday but hardened on Tuesday when Sanchez himself underlined the point.
At issue is Article 184 of the draft Withdrawal Agreement, which Spain claims was "introduced overnight" into the text and sent to Mrs May by EU negotiators without Spain's knowledge. Madrid is concerned that Article 184 would in effect extend any deal on the future agreement to Gibraltar without Spain first having a say.
"In truth, we're the ones who are surprised," Mr Sanchez said during a conference in Madrid organized by The Economist. Mr Sanchez said his government had taken a "productive and pro-European" stance in the Brexit process during talks with EU partners.
But he said that just 72 hours ago, Spain had discovered that the Withdrawal Agreement and the political declaration on the future relations did not make clear Spain's position on Gibraltar.
"This is fundamental for us from the point of view of identity, of the country," Mr Sanchez said. "Gibraltar is not part of the United Kingdom, it is represented by the United Kingdom but it is not part of it."
"As a country, we cannot accept that whatever happens with Gibraltar in the future will depend on a negotiation between the United Kingdom and the European Union. It will have to be something that is defined, negotiated and agreed by the United Kingdom and Spain".
"As of 72 hours ago, that is not guaranteed either in the Withdrawal Agreement or in the future declaration. As such, as it stands right now, I'm afraid to say that without changes Spain, a pro-European government, will vote no to Brexit on these terms."
Sanchez did not blame the UK or Gibraltar for the impasse, but rather pointed to EU negotiators in Brussels. If this pro-European government finds itself in this situation, it's because someone in Brussels has not done their job properly," he said.
On Monday, the UK Government made clear that it would include Gibraltar in its negotiations for a future relationship with the EU. "The draft withdrawal agreement agreed last week covers Gibraltar," said a spokesman for Prime Minister Theresa May.
"The PM has been clear that we will not exclude Gibraltar and the other overseas territories and the crown dependences from our negotiations on the future relationship. We will get a deal that works for the whole UK family."