Top Chinese newsagency boss wants to work closer with Latam, Caribbean media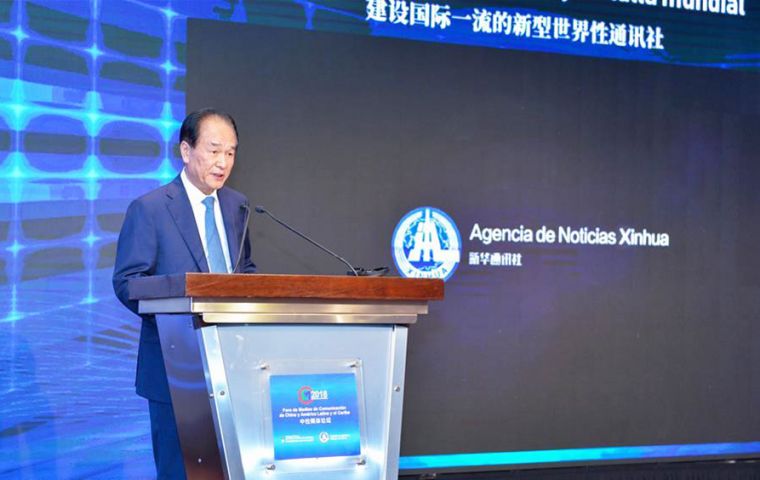 Chinese newsagency Xinhua President Cai Mingzhao Monday called for tighter cooperation among news organizations in Latin America and in his country. Cai said those words during the opening day of the 2018 China-Latin America and the Caribbean (LAC) Media Forum in Buenos Aires.
"For more than four centuries, people in China and LAC have been deeply impressed and attracted by each other's brilliant civilizations and our exchange and communication have never stopped," said Cai as he underlined the role of bews organizations as bridges between the various peoples.
"In recent years, robust progress has been made between the two sides, with the scope of our cooperation being expanded and forms being enriched. Such cooperation has contributed to the development of the China-LAC comprehensive cooperative partnership," he pointed out.
Cai also vowed to "join hands with our LAC colleagues and step up efforts to report on China-LAC cooperation."
"We would like to present Chinese people with a true LAC and tell true Chinese stories to LAC people," Xinhua's boss added.
During his speech, Cai raised three proposals on the enhancement of China-LAC media cooperation.
The first calls for deepening cooperation on news reporting. "We propose that Chinese media go deeper into the marvelous continent of Latin America and also welcome LAC media to do interviews and exchanges in China," he said.
The second proposal calls for enhancing new media exchanges.
Cai said Xinhua is willing to grant LAC colleagues access to "Live News Cloud," a live-steaming platform open to all media, and "Media Brain," a platform that uses artificial intelligence (AI), cooperate with LAC media in new media, and discuss the path of innovative development.
The third proposal calls for joint participation "in the building of the Belt and Road."
Xinhua is now working on the establishment of an economic information alliance for the Belt and Road Initiative. The alliance aims to boost trade and win-win cooperation for all participants through information sharing, channel providing, special consulting, investment and business mediating, according to Cai.
"So far more than 30 institutions from over 20 countries have expressed their willingness to join the alliance. We sincerely invite LAC media and related institutions to join us," he said.
The event, themed "Deepening media cooperation, contributing to building of a China-LAC community with a shared future," drew representatives from 13 Chinese media outlets and over a hundred news agencies from over 20 LAC nations. (Xinhua)