Australia dust storm shrouds Sydney and reduces visibility to meters; air quality hazardous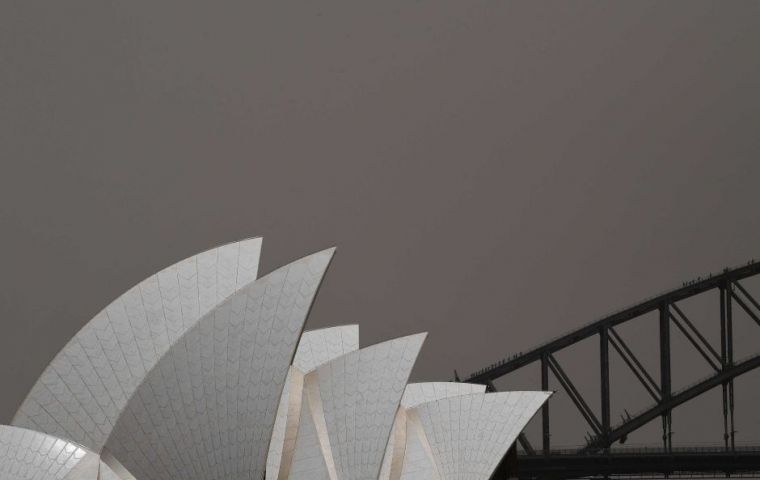 A dust storm that has swept across drought-stricken parts of New South Wales in Australia has shrouded Sydney's landmarks and sparked an air quality warning from the State Government. The dust storm, which stretches about 500 kilometers, reduced visibility to just meters in far western NSW including at Darling River and Broken Hill.
By lunchtime the impact of the dust was obvious across iconic locations like the Opera House, Sydney Harbour Bridge and Bondi Beach, while conditions in western Sydney also deteriorated.
The Bureau of Meteorology (BOM) forecaster Jordan Notara said it was unclear how severe the situation would become. "We may see some red afternoon skies," he said.
The dust storm is impacting several coastal areas including Sydney, the Illawarra, Hunter Valley and Central Coast. Mr Notara said the conditions had "the same hallmarks" of a major dust storm in Sydney in 2009.
Drought conditions have dried soil, which makes it easier for the wind to pick up dust.
Sydney Airport said the weather conditions had forced it to operate with a single runway. "International and Domestic terminals are experiencing some flight delays," the airport said in a tweet.
Air quality deteriorated to a level considered "hazardous", according to data from the Office of Environment and Heritage.
That level was reached in north Parramatta, the Central Coast and upper Hunter region. Air quality was close to reaching hazardous levels in Sydney's eastern suburbs.
The Health Department warned those with respiratory and cardiovascular conditions such as asthma, bronchitis and emphysema to limit their time outside and not exercise.
"Some of the dust particles in the dust storm will be very small and can get deep into your lungs and that's why we're concerned about people's health," Director of Environmental Health Dr Richard Broome said.
"If possible, stay in air-conditioned premises where filtration systems can help to reduce dust particles in the air."