Chile and Brazil sign free trade agreement in Santiago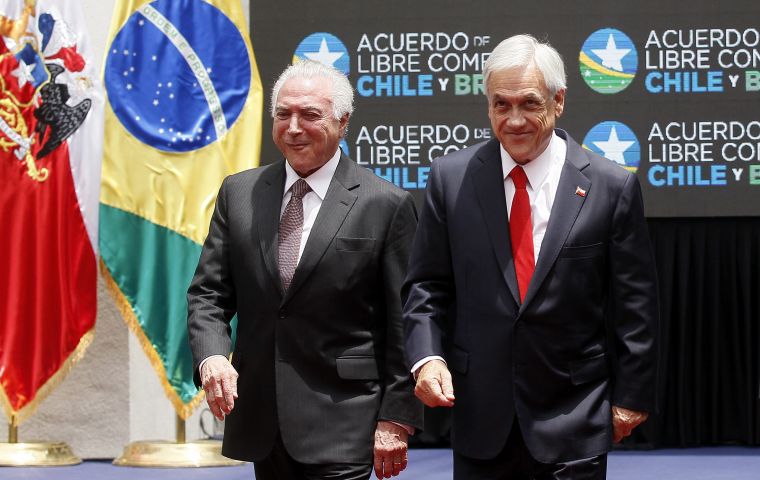 Chile and Brazil signed a free trade agreement on Wednesday that scraps red tape and tariffs between the two South American economies, in a move both governments said would give a boost to regional integration.
Brazil President Michel Temer traveled to Santiago to sign the deal with his counterpart, Chilean President Sebastian Pinera. The agreement eliminates tariffs from 17 key areas, including service sectors and electronics, and wipes away additional cell phone charges between the two countries.
Both countries touted the deal as critical to reinforcing integration in Latin America. Chile is a member of the Pacific Alliance, which also includes Mexico, Colombia and Peru. Brazil, together with Argentina, leads Mercosur, which also includes Uruguay and Paraguay.
The agreement, which was negotiated in under 6 months, "unites the Mercosur and Pacific Alliance," Temer said during the signing ceremony.
Trade between the two countries reached US$ 7.2 billion dollars between January and September, an increase of 13% over the previous year.
Wednesday's agreement eliminates the last remaining tariffs between the two South American economies. The majority were previously slashed as part of a complementary agreement signed between Chile and Mercosur bloc countries.