Trump clashes with the Supreme Court over asylum policy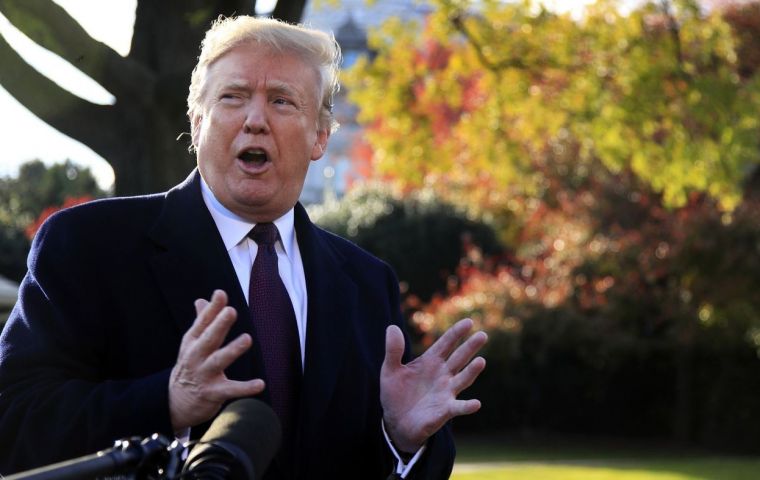 United States Supreme Court Chief Justice John Roberts has taken the extraordinary step of rebuking President Donald Trump's criticism of a federal judge. Mr. Trump on Tuesday called a jurist who ruled against his asylum policy an "Obama judge".
The president's gibe provoked a stern statement from the head of America's highest court. Mr Trump has defended his comments, saying Chief Justice Roberts is wrong.
It is the first time the chief justice has spoken against Mr Trump. "We do not have Obama judges or Trump judges, Bush judges or Clinton judges," Chief Justice Roberts said.
"What we have is an extraordinary group of dedicated judges doing their level best to do equal right to those appearing before them."
Speaking on the eve of America's Thanksgiving holiday, he said an "independent judiciary is something we should all be thankful for".
Mr. Trump responded on Twitter on Wednesday, saying the top justice was wrong and that "Obama judges...have a much different point of view than the people who are charged with the safety of our country".

Sorry Chief Justice John Roberts, but you do indeed have "Obama judges," and they have a much different point of view than the people who are charged with the safety of our country. It would be great if the 9th Circuit was indeed an "independent judiciary," but if it is why......
It is extremely rare for a senior member of the judiciary to clash with a US president.
Chief Justice Roberts' Supreme Court colleague Ruth Bader Ginsburg has been a far more outspoken critic of Mr. Trump.

In 2016, the liberal judge apologized for calling Mr. Trump a "faker" in an interview after coming under fire for commenting on a candidate as a jurist.

Mr Trump has previously lambasted federal judges for ruling against his policies. In 2017, he called a federal judge who reversed his controversial ban a "so-called judge" with a "ridiculous" opinion.

Chief Justice Roberts - who was appointed to lead the court in 2005 by President George W Bush - was responding to the news agency's request for reaction to Mr Trump's remark a day earlier.

The Republican president had spoken out following US District Judge Jon Tigar's ruling against a presidential executive order denying illegal migrants the right to seek asylum, calling the 9th Circuit "a disgrace".
"I'm going to put in a major complaint because you cannot win - if you're us - a case in the 9th Circuit and I think it's a disgrace," Mr Trump told reporters outside the White House. "This was an Obama judge. And I'll tell you what, it's not going to happen like this anymore."