Bolsonaro picks army philosopher for Education Minister job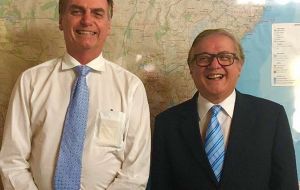 Brazil's president-elect Jair Bolsonaro, Thursday announced he has chosen Colombian-born philosopher Ricardo Vélez Rodríguez as his future Education Minister.
"I wanted to inform everyone about the appointment of Ricardo Vélez Rodríguez, philosopher author of more than 30 works, currently Professor Emeritus of the Command School and Army General Staff, for the position of Minister of Education," the far right wrote at the beginning of the night on his official Twitter profile.
According to the Folha de Sao Paulo newspaper, Vélez became a naturalized Brazilian in 1997.
Bolsonaro underlined Vélez Rodríguez' resumé. He graduated in Philosophy from the Pontificia Universidad Javeriana in 1964 and then in Theology at the Conciliar Seminary of Bogotá, before continuing moving to Brazil.
"Vélez is a Professor of Philosophy, has a Masters Degree in Brazilian Thought from the Pontifical Catholic University RJ, a PhD in Luso-Brazilian Thought by Gama Filho University, a Post-Doctorate from the Raymond Aron Political Research Center, Paris, with extensive teaching and management experience," Bolsonaro added on Twitter.
The appointment of Vélez comes a day after a powerful evangelical group, key to the election of the former military officer less than a month ago, frowned at the selection of educator Mozart Neves for the post.
Neves, director of the Ayrton Senna Institute, is said to be ongood terms with presidential runoff losing candidate Fernando Haddad of the Partido dos Trabalhadores (PT).