Falklands' Pebble Island turns into death trap for 56 beached pilot whales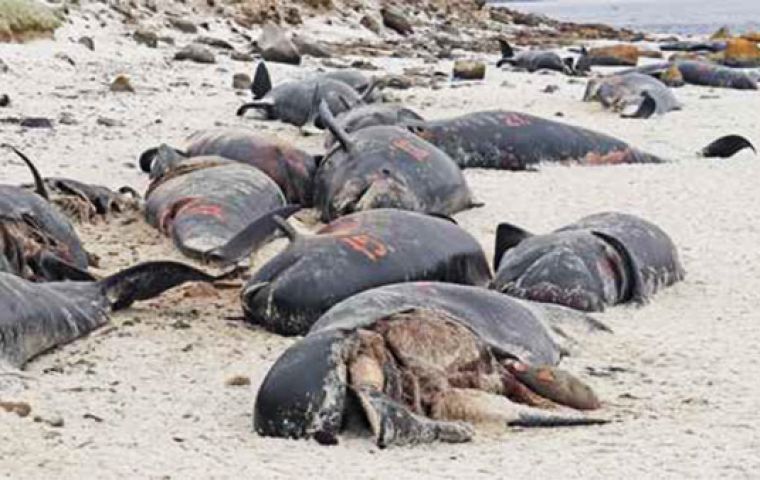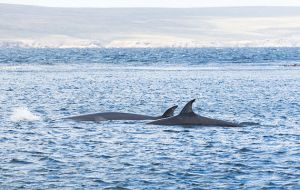 Fifty six whales died after beaching at Pebble Island approximately five days before they were spotted on November 10 by a Falkland Islands Government Air Service (FIGAS) pilot.
On November 14 a small team from the Falkland Islands Government Department of Natural Resources flew to Pebble Island to collect samples from the pod of long finned pilot whales (Globicephala melas edwardii).
In total 56 whales had died, 49 of which were sampled. The remaining six were unreachable on the nearby Rabbit island. Pilot whale stranding events are fairly common worldwide.
Their causes are not fully understood but frequently whole pods die en masse rather than just single individuals.
In the Falklands alone over 800 whales from 10 different stranding events have been recorded since 2006. The last previous known stranding occurred in January on Lorenzo beach East Island with 46 recorded mortalities.
It is the Falkland Islands Government's responsibility to coordinate a response to such stranding in order to obtain data and samples in accordance with the cetacean action plan. Usually this entails the cooperation of multiple stakeholders, including both government and NGOs.
In this case representatives from both the Fisheries and Agriculture Department attended the stranding. The group comprised Fisheries Scientific Officer Zhanna Scherbich, and Scientific Fisheries Observers Oliver Thomas and Toni Trevizan, along with the Department of Agriculture's Veterinary Officer Ross Milner.
The group made special mention of Pebble Farm's Alex Gould, "who played a pivotal role in not only transporting the team, but assisting in sampling and his wife Dot for being an excellent host."
Oliver Thomas by Penguin News