Labour strike grounds all Aerolíneas Argentinas flights for November 26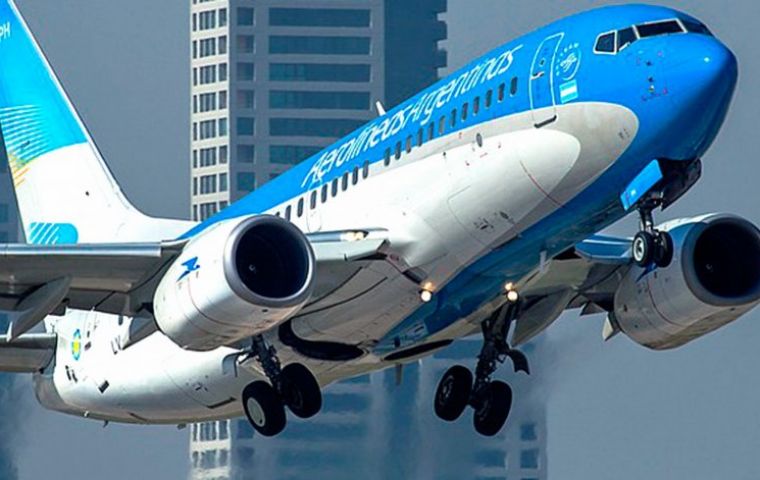 Aerolíneas Argentinas has cancelled all flights scheduled for this coming Monday, Nov. 26, due to a workers' strike, it was announced Friday.A total 371 flights are to be grounded, affecting the travel plans of over 40,000 passengers, which will cost the state-run company around 20 million US dollars in losses.
"This cancellation is due to the stoppage set for Monday by the guilds of pilots (APLA and UALA), as well as ground personnel grouped in the Association of Aeronautical Personnel (APA), the technicians of APTA and the Union of Superior Personnel (UPSA)," explained the national flag carrier in a statement.
Unions had been pushing the government for collective wage bargaining to no avail, but the main reason behind this particular strike are the diciplinary actions taken by the airline against 376 workers who took part in the previous strike on Nov. 8.
The company declined to elaborate on the issue and insisted the strike will mean losses of around 20 million dollars.
"The unions have announced the measure will begin at 0 hour on Monday, but they did not define when it will end. However, newspaper reports have indicated that it would be a 24-hour strike. Faced with the need to better protect our passengers, reprogramming their flights in the most orderly manner possible, Aerolíneas Argentinas is forced to cancel the entire operation scheduled for that day," the company's statement pointed out.
The carrier also advised passengers to be attentive to the email addresses registered when purchasing their tickets for information regarding the rescheduling of their flights.
Travellers were also given the chance to change their reservation dates or ask for a full refund, the company announced.
Earlier this week, Aerolineas Argentinas President Luis Malvido had admitted the company was "virtually bankrupt," as he explained that "we have to borrow from the state to pay our salaries."