Hard times ahead for Argentina's Banco Nación president
Monday, November 26th 2018 - 16:38 UTC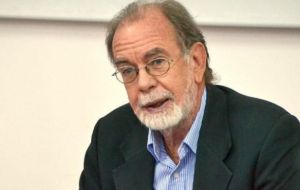 Argentina's state-run Banco Nación President Javier González Fraga admitted borrowing from abroad is a possibility to face the current liquidity shortage, it was reported.
According to the newspaper La Nación, the Banco Nación situation worsened in October due to the 44% reserve requirement plus the volatility of public funds deposits, commonly referred to as the treasury coffers.
The report also stated that the bank would go out for more stable deposits than those of government agencies and added that although technically universities or municipalities are also state entities, they are far less mercurial.
Bank Director Alicia Ines Caballero resigned a week ago over disagreements with González Fraga's managerial policies and two other directors may follow suit, the report pointed out.
The Argentine Banking Association has been warning for three months now that the Banco Nación "will decapitalize" next year because Article 118 of the national budget provides for a transfer of $ 15,000 million (around US $ 400 million) to the National Treasury.
Banco Nación workers have protested last week in demand of overdue wage increases agreed upon as they blamed González Fraga for the "economic setback that led to the bank to not have funds to deal with the salary recomposition."