Succesful identification of the 105 Argentine combatant buried in the Falklands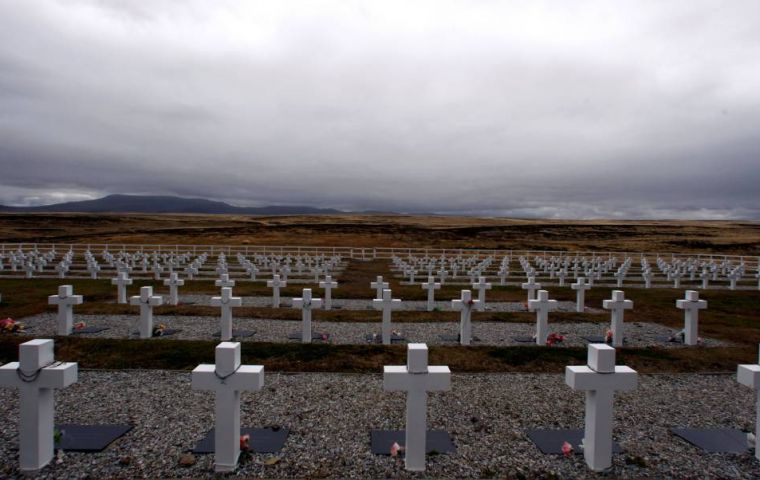 Argentina's Human Rights Secretariat Claudio Avruj announced on Monday the identification of the 105th combatant whose remains are buried in the Falkland Islands under a gravestone that read "Argentine soldier, only known upon God". Claudio Alfredo Bastida was a 19-year-old conscript who died in the Mount Longdon battle on 12 June 1982.
Bastida was born in the province of Buenos Aires and was doing his military service with the Patricios Regiment when he was sent to the Falkland Islands following the Argentine invasion of April 1982.
Bastida died hours before the end of the conflict when the Argentine forces surrendered to the British Task Force on 14th June 1982. His remains were buried in a common grave and later relocated at the Argentine military cemetery in Darwin as one of 122 tombs with the unmarked black marble gravestone.
The collection of Argentine remains and their dignified burial at the Argentine military cemetery in Darwin was the work of then British Army officer Geoffrey Cardoso, whose meticulous data on each grave and personal belongings were to be crucial in the identification process three decades later.
The humanitarian identification process of remains in the unnamed graves was agreed by Argentina, United Kingdom and the Falkland Islands under the guidance of the International Red Cross and a team of forensic and anthropoly experts using the latest technologies and DNA samples from Malvinas families.
The successful process has enabled the identification of the remains in 105 graves, the latest of which Claudio Alfredo Bastida, helping his family to know where he rests and mitigate a pain of decades.
"The world is looking at what we are doing, and the most important is helping families identify their beloved ones. We are glad and proud of the taks accomplished", said the office of Claudio Avruj, head of the Human Rights Secretariat and which has continued with the task undertaken by the Red Cross.
Claudio Alfredo Bastida's mother María Vidirales and his aunt were the first to be informed of the remains identification.
The identification process involving Argentina and the UK in the Falkland Islands was recently praised in Geneva by the International Committee of the Red Cross as an example "of diplomacy at the service of humanitarian objectives".