Maybe it's time for a Gremio/Palmeiras Copa Libertadores final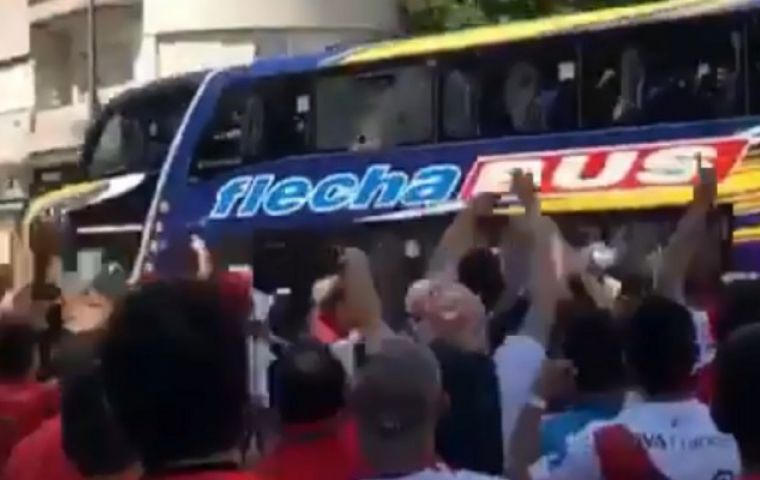 There is growing consensus among South America's football association governing body Conmebol and sport supporters that the postponed Copa Libertadores final second leg between two of Argentina's most popular teams should be definitiverly cancelled and let the semifinalists dispute the trophy reversing shame.
According to sources in Asunción and Montevideo, this is not only based on the onging squabbling between the two Argentine teams leaderships, but also because of details surfacing referred to the River Plate supporters attack on the Boca Juniors team bus, which forced the Saturday and Sunday postponements.
Although it was announced on Tuesday that the River Plate/Boca Juniors match final leg will have to be played outside of Argentina on 8 or 9 December, following a meeting of Conmebol's president Alberto Dominguez and the presidents of the two clubs, revelations of the bus' "ambush" on Saturday and the extent of corruption and the so called "football maffia" have shocked public opinion in Argentina and the rest of South America.
During the "shameful" attack Boca players suffered cuts from the glass from broken windows, and were also affected by the tear gas used by police to disperse the crowds.
And in effect the Saturday attack came a day after police raided the house of a leader of the Barra Brava - the powerful and violent wing of River's hardcore support - and confiscated 7m pesos (some US$ 200.000) and 300 ticket-invitations for the final, plus an array of weapons, as reported in Buenos Aires.
The raid came as a surprise for the "barra brava" since they are well organized for the sale of the invitations and have the police, and protection, on their side. However its members complained that the money and invitations had been taken and not returned, and if that was the case, then "there would be no match on Saturday". As such they let it be known in the social networks,
No wonder then that on Saturday afternoon the bus with the Boca players and a scant police support, drove to the Monumental stadium through a path where the furious "skimmed" supporters were waiting, and with the known consequences.
The head of Security in the City of Buenos Aires was sacked, the football maffia denounced, but the origin of the 300 invitations, and the different police departments actions have yet to be fully investigated and explained. Likewise how come some twenty of the hard core River Plate supporters were let in to the stadium the day before the match was scheduled on Saturday.
Too many questions remain, and thus the growing consensus that maybe the Copa Libertadores final should be played possibly between the two Brazilian teams knocked out by the Argentine sides, Gremio from Porto Alegre and Palmeiras from Sao Paulo City. Time for sober decisions and purging football's unmerited spoilers.