Saudi Prince arrives in BA as preparations for G-20 Summit gain momentum
Wednesday, November 28th 2018 - 12:57 UTC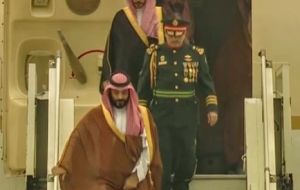 Saudi Arabia's Crown Prince Mohammed Bin Salman arrived in Buenos Aires at around 7 am on Wednesday and, thus, became the first international dignatary to touch Argentine soil for the G-20 Summit.
Other world leaders due in Buenos Aires by Wednesday evening are France's President Emmanuel Macron and the Prime Minister of Singapore, Lee Hsien Loong.
Bin Salman's arrival drew particular attention not only for being the first leader to land at Ezeiza airport, but also for Human Right Watch's petition before the Argentine courts that he be tried for human rights violations under the universal justice principle which recognises no specific jurisdiction for that type of crimes.
The Saudi prince is said to have personally ordered the killing of Washington Post columnist Jamal Khashogi in October in Turkey. He is also blamed for humanitarian law violations in Yemen that led to numerous deaths of civilians and many more wounded in Saudi-led military attacks.
Buenos Aires authorities have strengthened all security measures at the Saudi embassy by placing armoured glass and additional fences around the building.
A larger-scale police presence was ordered for all the diplomatic representations of countries attending the Summit, it was reported.
Leftwing and anti-Summit organisations have announced they will be marching all over Buenos Aires and probably in other parts of Argentina to protest against the meeting.
Peronists and Kirchnerites, meanwhile, are said to have opted for a low key attitude, with no public appearances scheduled for the duration of the encounter.
(MercoPress - Buenos Aires)