US imposes sanctions on the wife of Nicaraguan president Daniel Ortega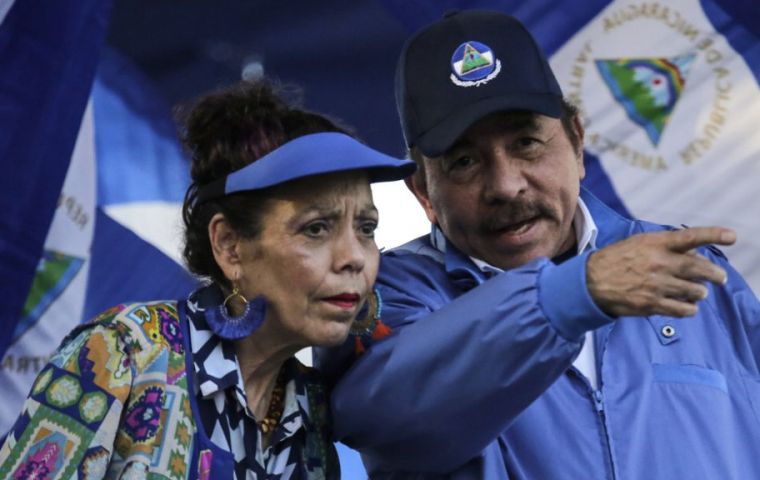 United States president Donald Trump on Tuesday sanctioned the wife of Nicaraguan president Daniel Ortega and one of his aides under a new executive order allowing Washington to target Nicaraguan officials for a crackdown on anti-government protests.
The U.S. Treasury said it had used the new executive order to punish Nicaraguan Vice President Rosario Murillo, Ortega's wife, and an aide it named as Nestor Moncada Lau, accusing them of undermining Nicaragua's democracy.
The step will have the effect of freezing any property owned by Murillo and Moncada that falls under U.S. jurisdiction and of barring U.S. individuals, banks and other entities from carrying out any transactions with them.
More than 300 people have been killed and at least 2,000 injured in crackdowns by police and armed groups on protests that began in April over government plans to cut welfare benefits and then escalated into broader opposition to Ortega.
U.S. officials said they were trying to influence Ortega, a former Marxist guerilla leader whose response to the protests has been compared to the reign of Anastasio Somoza, the dictator he helped topple in 1979.
"It's a message to President Ortega to find an exit strategy and to begin a process for ... free and fair elections," a senior Trump administration official told reporters on condition of anonymity. "It's an opportunity to find some type of solution ... to the crisis that they have created."
Ortega, who ruled the country from 1979 to 1990, has held elected office as president since 2007. The current violence comes after years of calm and is the worst since his Sandinista movement battled U.S.-backed "Contra" rebels in the 1980s.
Ortega in July rejected the idea of calling a referendum on whether to try to calm opposition against him by holding an early election before the next scheduled presidential election, due in late 2020.
In announcing the sanctions, the Treasury accused Murillo of dismantling Nicaragua's democratic institutions and looting its wealth in an effort to consolidate power.
It described Moncada as acting as a national security adviser to both Ortega and Murillo. While he does not have an official position in the government, he is believed to have considerable influence over the police. Moncada's involvement in intelligence operations with the Sandinista party stretches back to the early years of the revolution in the 1980s.