British PM expected in BA Thursday evening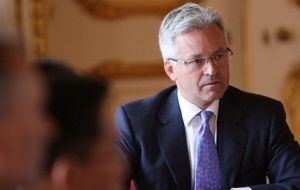 British Prime Minister Theresa May is arriving Thursday evening at the Ezeiza Airport to participate in the G20 Leaders Summit hosted by Argentina, during which she will hold a series of bilateral meetings with some of her peers, including President Mauricio Macri.
It is the first trip of a British premier to Buenos Aires. The only time a British Prime Minister had visited Argentina before was in 2001, when Tony Blair was in Puerto Iguazú.

As part of the programme of the G20 Leaders Summit, Prime Minister May will participate during Friday and Saturday's plena at the Costa Salguero premises, where she is expected to discuss the most relevant issues on the international agenda with the other world leaders, with a focus on equitable and sustainable development.

Among the topics that the British delegation will seek to promote in this summit are a positive and constructive vision on the future of global trade, the opportunities generated by new technologies, the need to ensure the quality of education for all girls, and the importance of fulfilling with the commitments set forth in the Paris Agreement to combat climate change.

On Friday, the Prime Minister will also attend the cultural event that the Argentine presidency of the G20 will offer for all the leaders and other guests at the Teatro Colón.

Before leaving for Argentina, Prime Minister Theresa May said in statements to the press:

"I'm pleased to be the first British Prime Minister to visit your beautiful capital of Buenos Aires and this is just the latest milestone in a process which has seen a strengthening in the relationship between the UK and Argentina. We see Argentina as a key partner and the joint communique which Foreign Office Minister Sir Alan Duncan agreed in 2016 has formed the basis of increased co-operation in all sorts of areas."

During her stay in Argentina, Prime Minister May will also hold a series of bilateral meetings with other leaders participating in the G20 summit, including Argentine President Macri to review the most recent advances in the relationship between the two countries.

Britain's Finance Minister Philip Hammond arrived Thursday morning and has already participated in a sustainable development forum in downtown Buenos Aires.

The British delegation will return to the United Kingdom on Saturday night.