Macri holds trust-building side meeting with PM May during G-20 Summit
Friday, November 30th 2018 - 23:01 UTC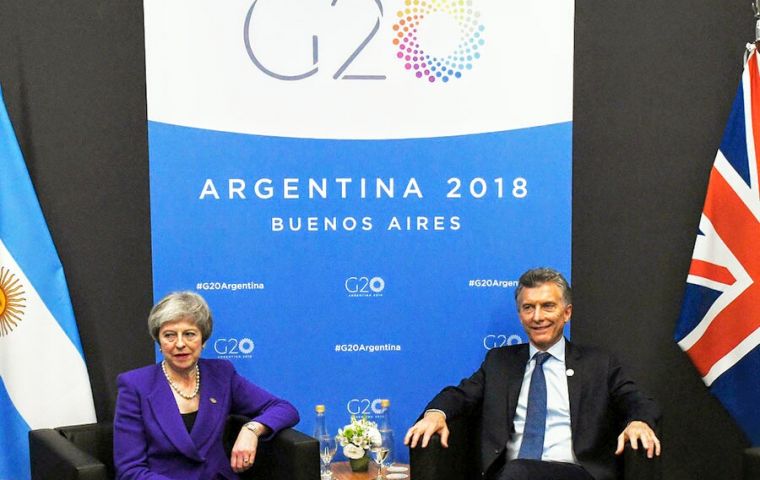 Argentine President Mauricio Macri Friday held a bilateral meeting with British Prime Minister Theresa May in what turned out to be the first one-on-one encounter between heads of government of the two countries after the 1982 Falklands War.
The two leaders met privately at a side room in the Costa Salguero premises where the G-20 Summit is taking place Friday and Saturday and "everything unfolded in a frank dialogue and a positive ambience," according to Argentine Foreign Minister Jorge Faurie, who added that "it highlights the level of relations that we have managed to develop in these years of government, we have talked about the entire bilateral relationship and that includes every issue."
Mrs. May and Macri "noted the significance of the Prime Minister being the first to ever visit Buenos Aires and only the second to visit Argentina," British sources explained, and they celebrated the new commercial air link between Falkland/Malvinas and São Paulo through Córdoba as well as the humanitarian achievement in identifying the bodies of Argentine combatants buried at the Darwin Cemetery.
The Prime Minister also expressed her willingness to continue generating future relations and praised Argentina's economic reforms.
Both leaders also voiced their endorsement to the strategic agreement between the British telephone company Vodafone and Telecom Argentina.
Reliable sources also disclosed that Mrs May told Macri during a coffee break that she would seek to deal unilaterally with Mercosur post Brexit.
The presence of British investors in Argentina is likely to increase in the near future, according to Downing Street sources. Both leaders"discussed ways in which the UK and Argentina could boost bilateral trade and investment, welcoming the appointment of the first every U.K. Trade Envoy to Argentina," a spokesperson for the British government said.
The Falklands/Malvinas issue "will always be in the conversations, but the focus of this meeting is on the reconstruction of trust," as Faurie put it.
"The Prime Minister and President Macri looked forward to continued co-operation across the bilateral relationship including on tackling corruption," a British spokesperson added.
"The leaders welcomed the agreement on a new commercial air link between the Falklands and São Paulo via Córdoba, saying that the move demonstrated the significant progress that has been made in our relationship.