Macron has busy pre G-20 Thursday in BA after sloppy airport welcome
Friday, November 30th 2018 - 06:14 UTC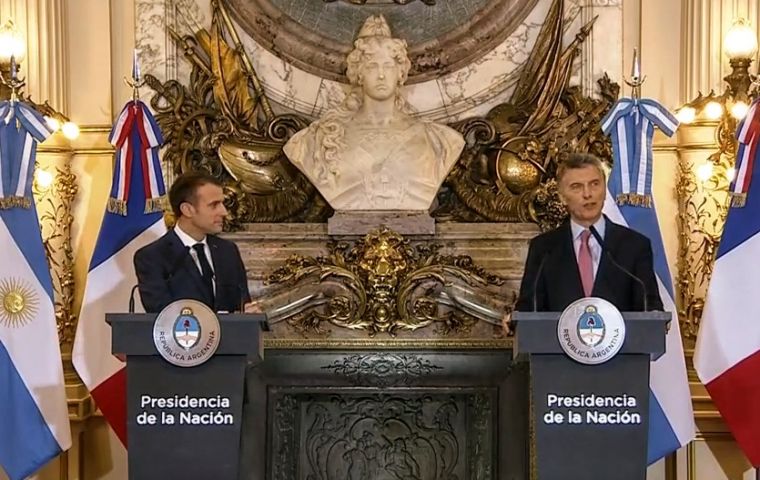 His presidential plane landed at Buenos Aires' international Ezeiza airport for the G-20 Summit Wednesday night. After parking, France's Emmanuel Macron and his wife Brigitte went down the stairs to greet .... a tarmac worker or two, after which the pair kept walking to their car. Right before getting inside, they were told to go back on their steps and meet Argentine Vicepresident Gabriela Michetti for the official welcome that almost did not happen.
By Thursday morning, during the city's last hours of normalcy before vehicles and individuals alike were to be sealed off on one side of the security fence or the other, Macron took a tour of Buenos Aires.
He started at one of the biggest bookstores in the world - the former Grand Splendid theater which opened n 1919 and kept its appearance when converted in 2000 from movies and stage plays to books and a coffee shop for reader buyers to enjoy. That is where Macron had breakfast.
As he left the building he was treated like a rock megastar by bypassers - mostly women - and even shook hands with a few of them, much to the discomfort of his bodyguards. "Thanks to you all!," he was heard saying to his lady fans.
The former pupil of philosopher Paul Ricoeur then posted a tribute to Argentine writer Jorge Luis Borges on his Instagram account. "Borges, is a personal sensibility that vibrates with the destiny of the Argentine people and makes it reach universalism," he wrote. He also said that the writer was his "gateway through fiction to a South American imaginary."
Later on, Macron toured the Plaza de Mayo and the Metropolitan Cathedral that used to be the parish of Cardinal Jorge Bergoglio, now known worldwide as Pope Francis.
Finally he made it to the "Pink House" where protocol was indeed obderved and he was received by President Mauricio Macri. Then the two heads of state gave a press conference.
Macri admitted he had asked for Macron's endorsement to a free trade agreement between Mercosur and the European Union (EU) and underlined that the two blocs are now closer than ever.
"I appreciate the enormous support of France to reach an agreement with the International Monetary Fund," he added.
On the other hand, Macron praised Nacri for his decision "to open the economy."
"We are living a very important moment, France has offered its support in the framework of the agreement with the IMF. I wanted to reaffirm my support for [Macri's] reform agenda, that is the way forward,", he explained as he pledged to stand behind Argentina's drive to join the OECD.
In return, Macri supported France's measures towards greater labour flexibility, something with the "yellow waistcoat" movement does nit seem to agree.