Princess Anne unveils Lord Cochrane monument in Santiago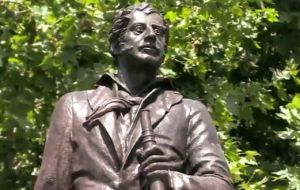 Her Royal Highness Princess Anne, Queen Elizabeth's only daughter, was in Santiago Thursday to attend the unveiling of a monument honoring local Navy hero Lord Thomas Alexander Cochrane.
Also at the ceremony - where Chile's flag and the Union Jack were hoisted together - were Chile's Defense Minister Alberto Espina, Navy Chief Admiral Julio Leiva, Santiago Mayor Felipe Alessandri and the United Kingdom's ambassador Jamie Bowden, himself a descendant of Chilean-born ancestors, among other dignitaries.
Princess Anne and Admiral Leiva unveiled the 2.2 meter-high bronze piece near Santiago's underground station "Los Héroes." The statue was made by the renowned sculptor Luis Arturo Hevia Salazar, similar to the same figure found in Valparaíso and is part of a project executed by the Maritime Heritage Corporation of Chile, in partnership with the Institute of Historical Commemoration of Chile , through the Law of Donations for Cultural Purposes, thanks to the contributions of the BCI Credit and Investment Bank.
Ambassador Bowden recognized "Lord Cochrane is a fascinating and inspiring figure, who arrived two hundred years ago to Chile to lead the First National Squadron. In this role he contributed greatly to the independence process in Chile and Peru and helped found the Chilean Navy, giving it a British stamp that can be appreciated to this day. These days not only do we honour the memory of Cochrane, but also of the Officers and Sailors who were part of his Squadron."
The Chilean Navy said in a statement that "this in the context of the celebrations for the commemoration of the 200th anniversary of the arrival of the British sailor to the country and a Chilean citizen of grace, who contributed fundamentally to the formation of our Institution, leaving his mark as a unique and valid seal until our days."
Admiral Rodolfo Codina, President of the Corporation of the Maritime Heritage of Chile, said "the development and execution of this project [the monument] is part of the Corporation's mission, which is to promote the conservation, research and dissemination of the country's maritime heritage, thus fostering an interest in knowing and preserving our rich heritage."
Admiral Leiva, for his part, expressed that "when we are celebrating the Bicentennial of the Navy, we render a deserved and necessary recognition to the figure of Admiral Cochrane. It is not enough that one of our most important ships bears his name. Today it becomes necessary for all citizens to know and appreciate the scope they had in the process of consolidating our republic and the formation of our naval power, which is so relevant today for our country and [its] development."