Russia and Argentina sign fisheries conservation cooperation accord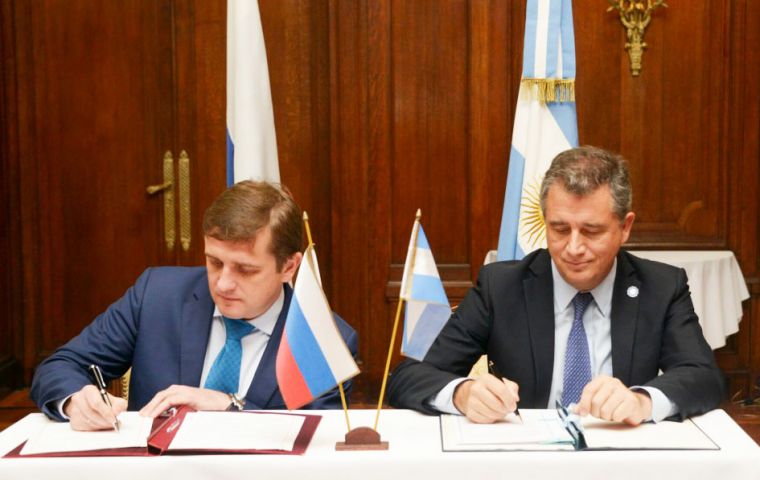 Argentina and Russia signed on Friday a fisheries and aquaculture cooperation agreement including elaboration of projects for the conservation and sustainable management of resources, as well certifying export fishing plants.
The event took place at the Russian embassy in Buenos Aires on the sidelines of the G20 leaders' summit with Argentina's Agro-industry secretary, Luis Miguel Etchevehere and Russian Deputy Agriculture minister Ilya Shestakov.
The purpose of the agreement is to develop cooperation mechanisms for the conservation and sustainable management of marine living resources, besides working in the prevention and elimination of illegal fishing, said the official communiqué.
"We plan to elaborate and develop joint projects on extraction and processing technologies, of productive activities and professional training".
"We must underline the strategic significance for Argentina of relations with this world power, which has been historically an important buyer of agro-industry produce from this country", said Etchevehere adding that 2018 has been a great year for agro-industry cooperation with the signing last July of biotechnology and bio-security accords".
The two countries also analyzed progress in bilateral trade, particularly related to fisheries with the export certification for another 19 Argentine fish processing plants. However there was also mention to the presence of cadmium in the fish meal exported to Russia, but it was announced that both countries health and sanitary departments are working on the issue.
Russia also expressed an interest in developing scallop farming in Argentina, as to continue advancing with Russian investments in king crab fishing vessels.
Argentine agro-industry sales to Russia accounted for 98% of all bilateral trade, mainly pears, lemons and beef. Overall Argentine exports to Russia last year reached US% 506 million and imports, US$ 341 million.