Shinzo Abe, Mario Abdo Benítez formalise Japanese aid to Paraguay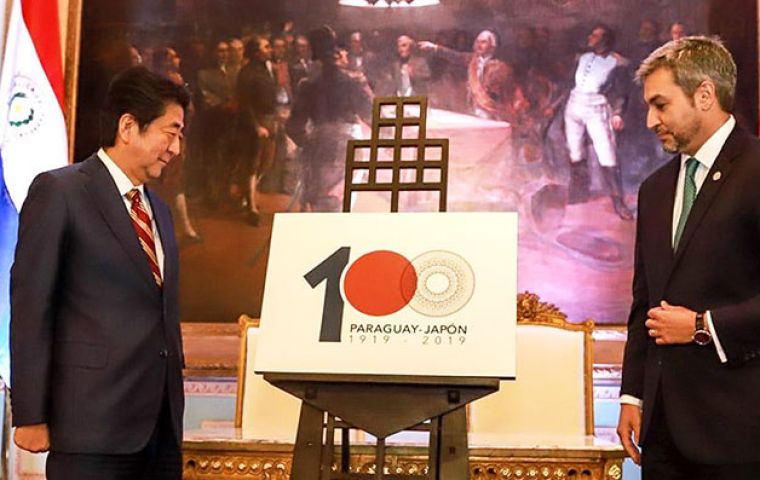 Prime Minister Shinzo Abe arrived in Paraguay Sunday afternoon to meet with President Mario Abdo Benítez and visit the local Japanese community. After a stopover in Uruguay, Abe, who became the first Japanese prime minister ever to visit Paraguay, was welcomed at the Silvio Pettirossi international airport by Foreign Minister Luis Alberto Castiglioni.
Abe's meeting with the Japanese community took place at the headquarters of the South American Football Confederation (Conmebol), located in the city of Luque, in the outskirts of Asunción.
The Japanese head of government later met with President Mario Abdo Benítez, at the Palacio López and signed
two cooperation agreements.
One of them, to strengthen the medical services of the National Cancer Institute (Incan) and the Hospital de Clínicas, for USD 4.4 million, was signed between the governments of Paraguay and Japan for the purchase of medical equipment and other improvements in health care.
And the other provides that the Japanese government will contribute to the expansion of the dredging capacity of the National Administration of Navigation and Ports (ANNP).
Japan's International Cooperation Agency (JICA) will donate USD 23.5 million for the acquisition of dredging equipment.
The intention is to contribute to the maintenance of the dredging works in the Paraguay River and to assure the navigability and facilitate transport to promote regional economic development.
In 2019, 100 years of diplomatic relations between Paraguay and Japan will be celebrated. Japanese migration into Paraguay began in 1936, when some thirty people who had first emigrated to Brazil settled in the community of La Colmena, about 130 kilometers from Asunción.